* Price per academic year
Course summary
Our degree courses with Foundation year offer the opportunity to prepare you for advanced study before you progress onto a full honours degree at the University of Westminster. Whether you do not feel ready for degree-level study, don't have the right qualifications, want to change your subject specialism or return to study after an absence from education, we aim to encourage a broad range of students to undertake our Foundation year in order to progress onto their full honours degree with us.
The Foundation year is designed to give you the opportunity to explore new ideas, opening up new perspectives on the key debates within your chosen field. During the foundation year you will explore a range of creative disciplines and get a chance to develop in your chosen field, benefiting from workshops in our high end facilities and working with leading academics who will encourage you to become a confident and creative thinker. Core modules accelerate your academic and professional development and you will also take modules within your chosen field, giving you the chance to develop a cross-disciplinary perspective on your course.
On successful completion of the Foundation year (Year 0), you will be able to move on to study for the Software Engineering BEng Honours over a further three years study.
The Software Engineering BEng Honours studies the best ways to design, build, maintain and evaluate software systems. It uses many of the technical aspects of computer science, especially programming, and aims to develop the professional attitudes, interpersonal and technical skills you will need in the software engineering industry.
The course provides a solid foundation in software engineering theory and practice to develop professional software systems. It will equip you to take up a wide range of career opportunities, including software engineer, web application programmer, software designer/analyst or website designer/programmer.
You will study software development, programming languages, technologies and applications including Java, C/C#, UNIX, UML, graphics, networks, concurrent systems, databases, artificial intelligence, and web and mobile computing. You will share a common first year with the Computer Science BSc Honours course; you can transfer in Year 1, and specialise in Year 3.
The Software Engineering BEng emphasises fundamental principles, design, acquisition of practical skills and evaluation of technologies. You may go on to complete an integrated Masters programme with the award of an MEng degree after four years.
Course structure
The following subjects are indicative of what you will study on this course.
To help you make an informed decision, you can have a look at how marks have been calculated and study time has been distributed on this course in the past.
Subjects of study include:
Computer Systems and Networks
Critical Thinking for Academic and Professional Development
Foundation Mathematics
Information Systems and Data Representation
Introduction to Academic Practice
Programming
Credit Level 3
Subjects of study include:
Computer Science Practice
Computer Systems Fundamentals
Programming Principles I
Web Design and Development
Mathematics for Computing
Programming Principles II
Credit Level 4
Subjects of study include:
Object Oriented Programming
Client Server Architecture
Software Development Group Project
Database Systems
Algorithms: Theory, Design and Implementation
plus one option from the following:
Applied Mathematics and Physics for Games
3D Graphics Programming
Mobile Application Development
Server-side Web Development
Credit Level 5
Optional Industrial placement year
You can take a 12-month placement between Years 2 and 3. This experience will give you additional practical skills, and a competitive edge in the job market.
Subjects of study include:
Final year project
Reasoning about Programs
Security and Forensics
Plus two option modules from the following:
Advanced Server-Side Web Programming
Concurrent Programming
Advanced Maths and Game AI
Mobile Native Application Development
Credit Level 6
Westminster Plus Electives

As part of your course you may be able to take elective modules. Electives are an exciting opportunity to widen your experience at university and to gain skills and knowledge that will help make you more employable.
Find out about Westminster Plus Electives.
Professional accreditation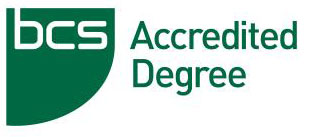 This programme is accredited by BCS, The Chartered Institute for IT, for fully meeting the educational requirement for Chartered IT Professional (CITP) status and for partially satisfying the underpinning knowledge requirements set by the Engineering Council in the UK Standard for Professional Engineering Competence (UK-SPEC) and the Science Council for Chartered or Incorporated Engineer (CEng or IEng) status as well as for Chartered Scientist (CSci) status. Note that there are additional requirements, including work experience, to achieve full CITP, CEng, CSci or IEng status. Graduates of this accredited degree will also be eligible for professional membership of BCS (MBCS).
The BCS accreditation is an indicator of the programme's quality to students and employers; it is also an important benchmark of the programme's standard in providing high quality computing education, and commitment to developing future IT professionals that have the potential to achieve Chartered status. The programme is also likely to be recognised by other countries that are signatories to international accords. Mark Baldwin
Associate Head - DCDI - ES
Mark has worked as a research engineer for the Eurocontrol air safety and navigation organisation for Europe.
His research and development work included development of software for real-time tracking of air traffic over the north Atlantic using satellite automatic dependent surveillance.
Other projects Mark has worked on included the development of algorithms for aircraft tracking from limited satellite data and statistical modelling of the ADS data flow.
See full profile
Dr Alexander Bolotov
Principal Lecturer
Dr Alex Bolotov is a Principal Lecturer within the Department of Computer Science and Engineering at the University of Westminster. Alex is the course leader for BEng/MEng Software Engineering and teaches various modules on the course. His research interests are in the field of automatic theorem-proving, in particular for temporal reasoning and application of these techniques in specification and verification of distributed systems and agent-based systems.
See full profile Typical Offer
A Levels – DDE/CC
Access to HE Diploma – 64 UCAS tariff points from the Access course
International Baccalaureate – 24 points
Pearson BTEC Level 3 Extended National Diploma/National Diploma – MPP/MM
We consider applications that reflect a mixture of Level 3 qualifications as long as they are equivalent to our typical offer requirements. Mature entrants without formal qualifications will be considered on an individual basis.
If your first language is not English, you will need an IELTS score of 5.5 overall, with 5.5 in each element.
View more information about our entry requirements and the application process.
Typical offer
International Baccalaureate – 24 points
If your first language is not English, you will need an IELTS score of 5.5 overall, with 5.5 in each element.
More information
International Foundation course  
We work in partnership with Kaplan International College London to provide Foundation Certificate courses for international students who don't meet our Bachelor's degree entry requirements.
Find out how to apply for the Foundation Certificate course. 
Pre-sessional English programmes
Need to improve your English before starting your course? We offer summer pre-sessional English programmes to help develop your English language skills.
Find out more about our pre-sessional English programmes
Career prospects for Software Engineering students are excellent and students on graduation can be expected to follow these typical career routes:
Graduate career roles
Programmer, web developer, junior specialist developer and software developer.
Early to mid-career roles
Computer systems analysts, computer system engineers, software QA, database administrators, research and development, network systems administration and software engineer.
Senior roles
Senior application developer, lead developer, chief technical officer, lead researcher, senior systems architect or analyst.
Our Careers and Employability Service is here to support you to achieve your full potential.
 
With a growing network of over 3,000 employers around the world and a team of experienced careers consultants, we provide you with a variety of opportunities to work and develop new skills. As a University of Westminster student, you'll have access to our services throughout your studies and after you graduate.
 
We can help you:
    •    find work placements, graduate jobs or voluntary experience related to your course
    •    discover international opportunities to enhance your employability
    •    write effective CVs and application forms
    •    develop your interview and enterprise skills
    •    plan your career with our career consultants
    •    gain insights into your chosen industry through mentoring
    •    meet employers and explore your career options at our employer fairs, careers presentations and networking events 
 
Find out more about the Careers and Employability Service.
Find out more about other employability initiatives at the University of Westminster. 
UK and EU tuition fee: £9,250 (Price per academic year)
The amount you will pay may increase each year to take into account the effects of inflation.
Find out how we set our tuition fees.
Funding
As well as tuition fee loans, there is a range of funding available to help you fund your studies.
Find out about undergraduate student funding options.
Scholarships
The University is dedicated to supporting ambitious and outstanding students and we offer a variety of scholarships to eligible undergraduate students, which cover all or part of your tuition fees.
Find out if you qualify for one of our scholarships.
International tuition fee: £13,400 (Price per academic year)
The amount you will pay may increase each year to take into account the effects of inflation.
Find out how we set our tuition fees.
International student funding
Find out about funding for international students.
Scholarships
The University is dedicated to supporting ambitious and outstanding students and we offer a variety of scholarships to eligible undergraduate students, which cover all or part of your tuition fees.
Find out if you qualify for one of our scholarships.
Course Location
Our Cavendish Campus in the heart of London is home to our science and technology disciplines. With first-class facilities, the campus houses subjects from Biosciences, Computer Engineering, Nutrition and Psychology and benefits from advanced state of the art science and psychology labs. For more details, visit our Cavendish Campus page.
Contact us
Contact the Course Enquiries Team:
+44 (0)20 7915 5511
Opening hours (GMT): 9am–4.30pm Monday to Friday
Your Westminster
Book an open day. Order a prospectus. Sign up for newsletters.