* Price per academic year
Course summary
The Masters in International Relations and Democratic Politics provides an advanced critical and comprehensive understanding of the forces shaping state, inter-state relations and global politics. Drawing on key theoretical interpretations of democratic politics, the course probes into various tenets of democratic thinking (ranging from pluralism and civil society to egalitarianism and human rights), and explores the interplay between theory and practice in old and new democracies and in processes of global governance.
Is democracy a concept limited to a world of territorially-bounded national communities? Can democracy still limit power in a global world? How does democratic policy making operate in the face of complexity? By raising and examining such questions the course explores the changing and contested understandings of democracy in contemporary thought as well as its application to the international sphere in our increasingly complex world.
Course structure
The following modules are indicative of what you will study on this course.
You must choose four modules from the list of option modules (one of your options may be an approved free choice module hosted by another Masters course).
Core modules
The module examines key issues and debates in democratic politics. It focuses on 20th-century democratic thought and discusses how key democratic ideas/ideals have been interpreted and re-interpreted to address dominant trends and changes in democratic societies. The module identifies some of the challenges confronting democratic theory and practice, and it examines differences between old and new democracies. Throughout the module special emphasis is given to the dynamics of democratic institution and democratic renewal.
You will receive supervised guidance and research methods training (through a series of research method workshops, the Dissertation induction and colloquium seminars, and individual Dissertation supervision sessions) to prepare you for your Masters Dissertation on an agreed research topic. You will begin identifying your Dissertation interests at the start of your studies, when you will be able to discuss your ideas with different tutors who may direct you towards taking appropriate option modules that support your future research studies. This module must be taken either following the completion of all other modules, or concurrently with modules in your second semester.
This module introduces you to the theoretical frameworks and practices of the politics of global complexity, the debates that have been triggered, and the way that complexity understandings have developed, especially in the 1990s and 2000s. Emphasis is placed upon the conceptual frameworks deployed in understanding system effects on political, economic and social life, and how these enable us to rethink democratic governance, power and agency. While focusing on conceptual frameworks, this module also engages with how complexity is reflected in new approaches to policy, and external stakeholders will provide input to the module (for example, the Social Market Foundation, Demos, the New Local Government Network and the Foreign Policy Centre).
Option modules
This module focuses on post-Cold War United States foreign and national security policies, and the US policy-making processes. It exposes you to competing interpretations of both policy and the policy-making process. For example, did the end of the Cold War or 9/11 and the onset of the so-called 'war on terror' mark new eras in US foreign and national security policy? And how important is the Congress and US public opinion in the making of US foreign policy? The module shows that US policies are rooted as much in domestic politics as they are in America's perceptions of its interests in a changing international environment.
This module explores and assesses new forms of citizen participation across the world. Recent decades have witnessed increasing experimentation and institutionalisation of democratic participation organised and sponsored by both public authorities as part of formal decision making (e.g. citizens' assemblies, participatory budgeting) and by activists, often in opposition to public authorities (e.g. Occupy, World Social Forum). In both cases, these democratic innovations aim to increase and deepen citizen engagement in democratic politics. The module provides an overview of developments in democratic theory and political and social science that help to interpret these exciting democratic practices. Detailed engagement with and evaluation of cases from around the world is promoted. The module provides an opportunity for students to contribute to the global research project and platform Participedia.
This module explores International Relations (IR) using the 'lenses' of gender and sexuality. The module draws from feminist and queer scholarship to critique the conceptualisation of IR in gender neutral terms, revealing gendered and heteronormative power relations and engaging with intersectionality including race and global location. The module will explore key issues in global politics including war, (in)security, diplomacy, peace building, human rights, international political economy and transnational activism.
Your main focus throughout this module will be on the domestic and international politics of China and India, and on empirical examples of the global change characterised by the predicted rise of these two non-Western states. The aim will be to go beyond the news headlines to develop a scholarly and critical understanding of the emerging great powers. This offers you an opportunity to train in international relations and recognise, understand, and deal with the changes in the global political landscape.
This module aims at evaluating the relevance of contemporary debates in international relations and political economy to the study of energy security, energy markets and climate change. It examines the political history of the modern energy systems and the role played by states and major private and state-owned companies. In addition, it explores the role of global institutions and their impact on the interplay between energy security, energy markets and climate change. The module also critically assesses standard approaches to the issue of energy security by focusing on the problem of energy poverty and resilience.
You will explore the EU as a polity and as a system of governance. The module offers a practice-led survey of governance issues in the EU, informed by relevant theoretical approaches. You will cover the legal framework of the EU and the roles of member state and institutional actors in its decision-making processes; questions of institutional efficiency, accountability and the wider legitimacy of the EU; and characterisations of the EU as a polity and as a global actor.
The module focuses on current debates on Middle Eastern politics from a number of perspectives, with a focus on the role of Islam. You will be introduced to a variety of theoretical approaches to studying the modern Middle East, to relevant perspectives in International Relations, to selected case studies and various contributions to the debate from inside and outside the Arab world. A multidisciplinary approach will be adopted, where you will be steered through the fields of comparative politics, Islamic and Middle Eastern studies, and social and political theory so that at the end you will have achieved, in addition to familiarity with key issues in modern Middle Eastern politics, an appreciation of the theoretical perspectives being covered. In the process, you will be encouraged to develop a critical understanding of the workings of the region and challenged to assess the explanations given and provide your own explanations.
The module explores and compares a range of approaches to analysing and evaluating governance and policy, assessing the understandings of democracy that they imply. These approaches are introduced through a range of case studies relating to policy making in contrasting national and international contexts. You will explore the challenges of defining and delivering policy across a range of international, national and sub-national contexts, and reflect on the implications of these challenges for democracy.
Since the 2000s the global energy landscape that took shape in the last two decades of the twentieth century has been altered due to major geo-political and geo-economical shifts, the rise of new players in the energy sector and technological breakthroughs. The aim of this module is to analyse the impact that these developments had on the energy security of key producing and consuming countries. It will analyse these problems by focusing on change and continuity in the decision-making processes of state and non-state actors. Countries covered include the US, the EU, the Asian rising powers, Russia and specific case studies from the Middle East, Central Asia and Sub-Saharan Africa.
You will explore the European Union's international role: as an international trade partner; in its evolving competencies in foreign policy; in its dealings with NATO, the Organisation for Security and Co-operation in Europe (OSCE) and its member states over defence and security issues; in its relations with accession states and other 'third states'; and in its self-image and values as an international actor. The module offers a practice-led survey of the EU's external activities, informed by relevant theories.
This module questions if and why people need religion and their lived experience of it and how religion operates as a source of conflict and/ or integration within and beyond local, national and global communities. It examines the role of religion in society sociologically, starting with what is religion and how it can be studied empirically in relation to themes such as gender, politics, the death of religion and revivalism, migration, place, media and education.
You will explore the main 20th- and 21st-century theories of the state and examine the different approaches to the phenomenon of violence and its causes. The module examines the challenges arising from globalisation and will help you to grasp the new forms of antagonisms that have evolved in the new world order emerging after the collapse of the Soviet model.
Programme Specification
For more details on course structure and modules, and how you will be taught and assessed, see the programme specification.
For general enquiries about the course, please email [email protected]
To request an accessible version of the programme specification, please email [email protected]
Course Leader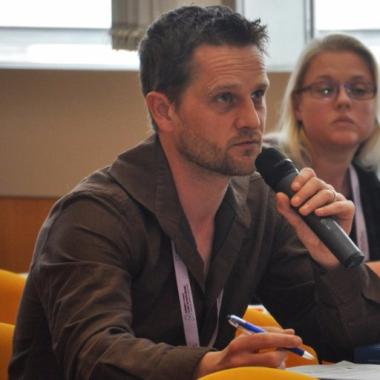 Dr Aidan Hehir
Reader in International Relations
Dr Aidan Hehir is a Reader in International Relations at the University of Westminster. He gained his PhD in 2005 and has previously worked at the University of Limerick and the University of Sheffield. His research interests include the Responsibility to Protect, humanitarian intervention, Kosovo, and the laws governing the use of force. He is co-convenor of the BISA Working Group on the Responsibility to Protect and is currently working on an ESRC-funded three-year project on The Responsibility to Protect and Liberal Norms.
Dr. Aidan has published widely in a number of academic journals including International Security, The Journal of Peace Research and Cooperation and Conflict. 
Our Careers and Employability Service is here to support you to achieve your full potential.
With a growing network of over 3,000 employers around the world and a team of experienced careers consultants, we provide you with a variety of opportunities to work and develop new skills. As a University of Westminster student, you'll have access to our services throughout your studies and after you graduate.
We can help you:
find work placements, graduate jobs or voluntary experience related to your course
discover international opportunities to enhance your employability
write effective CVs and application forms
develop your interview and enterprise skills
plan your career with our career consultants
gain insights into your chosen industry through mentoring
meet employers and explore your career options at our employer fairs, careers presentations and networking events 
Find out more about the Careers and Employability Service.
Find out more about other employability initiatives at the University of Westminster.
Watch our online information session
UK tuition fee: £9,500 (Price per academic year)
When you have enrolled with us, your annual tuition fees will remain the same throughout your studies with us. We do not increase your tuition fees each year.
Find out how we set our tuition fees.
Alumni discount
This course is eligible for an alumni discount. Find out if you are eligible and how to apply by visiting our Alumni discounts page.
Funding
As well as tuition fee loans, there is a range of funding available to help you fund your studies.
Find out about postgraduate student funding options.
Scholarships
The University is dedicated to supporting ambitious and outstanding students and we offer a variety of scholarships to eligible postgraduate students, which cover all or part of your tuition fees.
Find out if you qualify for one of our scholarships.
International tuition fee: £15,000 (Price per academic year)
When you have enrolled with us, your annual tuition fees will remain the same throughout your studies with us. We do not increase your tuition fees each year.
Find out how we set our tuition fees.
Alumni discount
This course is eligible for an alumni discount. Find out if you are eligible and how to apply by visiting our Alumni discounts page.
Funding
Find out about funding for international students.
Scholarships
The University is dedicated to supporting ambitious and outstanding students and we offer a variety of scholarships to eligible postgraduate students, which cover all or part of your tuition fees.
Find out if you qualify for one of our scholarships.
Course Location
Our Regent Campus is composed of three sites, situated on and around one of the most famous and vibrant streets in London. Our Humanities subjects are based at 309 Regent Street which includes recently refurbished social spaces, gym facilities and our Regent Street Cinema. Criminology, Sociology and Politics students are also taught at our Wells Street site. Westminster Law School resides at Little Titchfield Street. Alongside a full mock courtroom, hi-tech learning spaces and a pro-bono clinic, it also houses our state-of-the-art, 382-seat lecture theatre. For more details, visit our locations page.
Contact us
We have an FAQs page if you are applying this year.
Or you can contact the Course Enquiries Team:
Opening hours (GMT): 9am–4pm Monday to Friday
Your Westminster
Book an open day. Order a prospectus. Sign up for newsletters.