* Price per academic year
Course summary
The expansion of new media technologies combined with the relationship between customers and organisations provides unique areas of study within marketing communications. This course has been developed with professionals from the marketing industry to provide you with the knowledge, skills and capabilities you need to pursue a career within the highly competitive marketing communications environment.
The course will be of interest if you are attracted to careers in the communications side of the marketing industry, whether with marketing service agencies (such as advertising), in public relations, brand management, direct and interactive marketing, or in client-side marketing communications departments.
Our degrees in marketing have a shared first year which allows you to experience all the main areas in marketing before you finalise your degree to match your career choice.
We provide relevant exemptions from the Institute of Direct and Digital Marketing (IDM) and are aiming to provide exemptions from other professional bodies, including the Chartered Institute of Marketing (CIM).
The modules you study will develop your understanding of the theoretical and practical aspects of all areas of marketing communications.
In addition to subject knowledge you will develop good transferable skills, learn how to work effectively in teams, solve problems, develop critical thinking and present your ideas persuasively.
Teaching methods focus on active student learning through seminars, workshops, problem-based and blended learning (including group work in Years 1 and 2) designed to engage your interest.
Assessment methods may include essays, reports, presentations, case studies, videos, podcasts and posters, as well as time-constrained in-class tests and exams.
Course structure
The following subjects are indicative of what you will study on this course. For more details on course structure and modules, and how you will be taught and assessed, see the full course document.
Subjects of study include:
Business Practice for Marketing
Buyer Behaviour
Global Business Environment
Marketing Principles
You will also have the opportunity to take an option module that broadens your skills or helps you to gain more in-depth knowledge of your specialist area.Your option module may be a foreign language.
Credit Level 4
Subjects of study include:
Advertising
Business Practice for Marketing
Marketing Metrics
Marketing Research
Sales Promotion and Public Relations
Plus one option from other business areas including languages.
Professional experience or Study Abroad year
Between Year 2 and Year 3 you can undertake a one-year business placement. Past students have completed placements in a variety of SMEs and prestigious organisations including British Airways, Disney UK and Heinz. Alternatively you can study abroad at one of our partner institutions.
Credit Level 5
Subjects of study include:
Direct and Digital
Global Marketing Management
Global Strategic Management
Integrated Marketing Communication
Personal Selling and Sales Management
Plus two options from: Destination, Cultural and Heritage Marketing, Dissertation, Global Marketing Management, New Product Development, Managing Brands or other areas of business including languages
Credit Level 6
Westminster Plus Electives

As part of your course you may be able to take elective modules. Electives are an exciting opportunity to widen your experience at university and to gain skills and knowledge that will help make you more employable.
Find out about Westminster Plus Electives.
Course Leader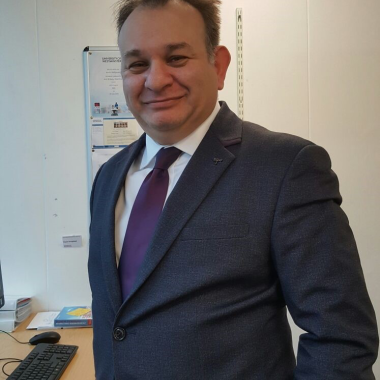 Darrell Kofkin
Lecturer
Darrell has been involved in the marketing for over 25 years. He began a career in marketing with London Underground before joining InterCity Midland Mainline as Marketing Planning Manager. He founded London School of Marketing in 2002, overseeing its development from 12 to 1500 students from over 70 nationalities. In 2005, he founded Global Marketing Network, an international certification and accreditation body for marketing professionals. Darrell joined the University of Westminster in 2009 and as well as Course Leader leads three modules that are part of the suite of marketing degrees. Darrell is a Fellow of the Higher Education Academy.
Darrell is passionate about developing ever more innovative approaches to marketing education. His mantra is 'developing the marketing students of today to be the marketing leaders of tomorrow'.
Typical Offer
One of the following (or an equivalent qualification):
A levels – BBC
International Baccalaureate – 28 points (minimum)
Pearson BTEC Level 3 Extended National Diploma – DMM
Access to HE Diploma - Pass with 45 credits at Level 3 with a minimum of 33 Level 3 credits at Merit or Distinction​
In addition to one of the above, you should have:
GCSEs - minimum grade 4 (Grade C in grading system prior to 2017) in Maths and English.
View more information about our entry requirements and the application process
Typical Offer
International Baccalaureate – 28 points (minimum)
More information
International Foundation course
We work in partnership with Kaplan International College London to provide Foundation courses for international students who do not meet our Bachelor's degree entry requirements. For more information visit the Kaplan International College website.
Student success
Nicole Rego Freitas
Own Brands Assistant, Argos Ltd
Marketing Communications BA Hons
My placement role was Own Brands Assistant at Argos. My main responsibilities included ensuring that Argos' own brands were executed consistently throughout internal and external channels, assisting on the development of digital campaigns, working with agencies to support the development of brands, weekly tracking brand performance and updating the team budget. My placement year has definitely helped me to decide what jobs I'm going to be applying for after I graduate. I really enjoyed working in Marketing Management and would love to secure a graduate job in the same field following graduation. 
Being an international student, doing a placement year as part of my degree was the perfect opportunity to gain some work experience and increase my chances of securing a graduate job in the UK in the future. 
Our Career Development Centre has just been shortlisted for the Best University Careers Service in the National Undergraduate Employability Awards for 2017.
With a growing network of over 3,000 employers around the world and a team of experienced careers consultants, we are here to help you succeed.
In 2015–16, we helped over 1,500 students find work placements across a range of sectors, with 250 employers attending 14 on-campus skills and careers fairs.
As a Westminster student, you'll have access to our services throughout your studies and after you graduate.
We can help you:
find work placements related to your course
find part-time/vacation, placement and graduate jobs, including voluntary experience
find international opportunities to enhance your employability
market yourself effectively to employers
write better CVs and application forms
develop your interview and enterprise skills
plan your career with our careers consultants
meet employers and explore your career options at our employer fairs, careers presentations and networking events throughout the year
Find out more about the Career Development Centre.
If you are studying a Bachelor's degree at Westminster Business School, you can choose to take a year's break from your studies in your third year to do a placement.  
A placement year is a great way of gaining practical work experience within an industry relevant to your studies. It increases your confidence and skills, and boosts your employability. It gives you a chance to apply the theoretical techniques you have learnt during your undergraduate degree so far to a real business environment while you work as a member of an established organisation.
UK and EU tuition fee: £9,250 (Price per academic year)
The amount you will pay may increase each year to take into account the effects of inflation.
Find out how we set our tuition fees.
Funding
As well as tuition fee loans, there is a range of funding available to help you fund your studies.
Find out about undergraduate student funding options.
Scholarships
The University is dedicated to supporting ambitious and outstanding students and we offer a variety of scholarships to eligible undergraduate students, which cover all or part of your tuition fees.
Find out if you qualify for one of our scholarships.
International tuition fee: £12,750 (Price per academic year)
The amount you will pay may increase each year to take into account the effects of inflation.
Find out how we set our tuition fees.
International student funding
Find out about funding for international students.
Scholarships
The University is dedicated to supporting ambitious and outstanding students and we offer a variety of scholarships to eligible undergraduate students, which cover all or part of your tuition fees.
Find out if you qualify for one of our scholarships.
What our students say
Westminster Business School Blog
Our blog gives you insight into student life on campus, internships and study exchanges, and more.
Course Location
Our Marylebone Campus has benefitted from a multi-million pound refurbishment resulting in new workshops, digital studios and development of the Marylebone Library. The campus is home to the Faculty of Architecture and the Built Environment and Westminster Business School. For more details, visit our Marylebone Campus page.
Contact us
Call our dedicated team on:
+44 (0)20 7915 5511
Opening hours (GMT): 9am-5pm Monday to Friday
Your Westminster
Book an open day. Order a prospectus. Sign up for newsletters.