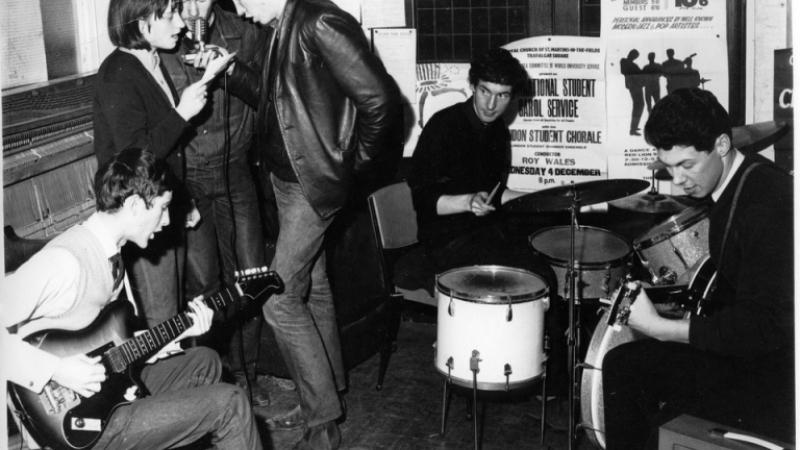 This project, by Matt Morrison and Guy Osborn, is part of our broader Disrupting the Everyday initiative, again pays homage to the spirit of the Soho Poly and its practice of challenging notions of time and space. In this instance it taps into the rich live music legacy of the University of Westminster and its predecessor institutions. Recordings of concerts that took place at the University have been sourced, and using these found sounds we hope to transport visitors back to the time these took place, where possible using the space they originally took place in, using various locations around the University.
The University of Westminster has always been an important space for popular music. At the Little Titchfield Street site, now home to Westminster Law School, key events in the history of popular music have unfolded, including Hendrix's first performance in the UK and early rehearsals for Nick Mason and Roger Waters' Sigma 6, later to morph into Pink Floyd.
In the 1960s and into the 1970s Little Titchfield Street was an important venue, close to iconic spaces such as The Speakeasy and the UFO Club and on the fringes of Sixties Soho. Coterminously the site became host to the important theatrical space of The Soho Poly, a ghost theatre rediscovered by Matt Morrison as part of his PhD research and recently reinvigorated by Matt Morrison and Guy Osborn, via the Being Human Lost and Found festival. Key artists of the period appeared at The Polytechnic, including Fleetwood Mac, Cream, Bowie and others. PolyFolk, sometimes using what is now the Soho Basement, or polycellar, put on a series of events involving artists such as Shelagh McDonald, Georgie Fame, Magna Carta and Ralph McTell. Later the focus for live music shifted to sites at New Cavendish Street and Bolsover Street, all of these spaces are now used for other purposes, but somehow something of their former past lingers in these ghost venues.
This project recreates these gigs and offers a fresh opportunity for visitors to disrupt their day. See the New Order: A Disruption page for a recent example of one of these happenings and the Pop, Politics and PCL page for details of a project mapping the concerts that took place at the Polytechnic of Central London between 1976 and 1990.
Posters and programmes
The posters and fanzines/programmes from these Ghost Gigs are presented below. The text is provided by Guy Osborn and Matt Morrison and the design by the University Design Team (thanks especially to Matt Sidebottom and Sandra Campbell). Feel free to print out the fanzines – we recommend printing double sided and onto A4,  then folded to make your own programme.
New Order
redskins
Michael Claire
Maureen Kennedy Martin
Ralph McTell
Fleetwood Mac
Donovan
Shelagh McDonald