Our partnerships in South Asia
The University of Westminster has a long history with South Asia, and continues to work collaboratively with a number of institutions across the region, including: 
Our relationships with South Asian institutes aim to foster mutually beneficial collaboration in both teaching and research and to build strong links with Westminster alumni. 
Informatics Institute of Technology (IIT), Sri Lanka
Informatics Institute of Technology (IIT), was established in 1990 as a pioneering institution in Colombo, Sri Lanka, for Information Communication Technology (ICT) and Business and is now host to around 1500 students. The University of Westminster and IIT have been partnered since 2005, with IIT currently delivering a number of Westminster programmes through a franchise arrangement: 
Courses at IIT contain a compulsory year in industry, equipping students with practical skills that enhance their education experience and employability prospects.
The University also provides access to key e-resources for those studying certain courses at Informatics Institute of Technology.
In 2018, Dr Peter Bonfield, Vice-Chancellor and President of the University of Westminster and Professor Alexandra Hughes, Deputy Vice-Chancellor (Global Engagement) visited IIT to attend a convocation ceremony and to sign a new partnership agreement with the institution. The University is proud to be partnered with IIT and continues to be committed to strengthening the collaborative relationship. 
Research and other activity
The University of Westminster has a distinctive and practical relationship with South Asia. With our depth of regional knowledge, we specialise in academically distinguished research spanning disciplines such as architecture, film, the media, policy and politics. Westminster engages with a wide spectrum of research partners including government departments, industry, NGOs, the media, and other cultural bodies. Some of the Westminster research groups include: 
India Media Centre (IMC) – India is home to one of the most diverse and dynamic media systems in the world, and one that is increasingly playing a role in the global media sphere. The IMC is the world's first research and knowledge transfer centre dedicated to the study of that media

Centre for the Study of Democracy (CSD) – the Centre undertakes research across a range of critical challenges to the theory and practice of politics and international relations Established in 1989, CSD continues to sustain an international reputation for research excellence through a programme of publications, events and collaborations. Themes include "Post-Colonial Politics, Development and Emerging Powers"

Chevening South Asia Journalism Programme – run by Westminster since 2012, this is a programme that brings together participants from across the South Asia region. This prestigious programme is funded by the UK Foreign and Commonwealth Office and offers an opportunity for participants to develop their leadership and practical skills in journalism, as well as broadening their networks through interactions with leading  UK academics and journalists
Monsoon Assemblages – the ambition of this research project is to undertake a ground-breaking interdisciplinary enquiry into relations between changing monsoon climates and rapid urban growth in three of South Asia's largest cities, Chennai, Dhaka and Yangon
All research outputs from the University of Westminster's academic community can be viewed on the online repository WestminsterResearch.
Alumni and Westminster Working Cultures
Our long history working in the region means that we have a strong and active alumni network, many of whom support the University in organising social and professional networking events locally. Following graduation from Westminster, students have gone on to establish themselves as entrepreneurs, develop careers in computing and gaming industries, as well as undertaking senior business and leadership roles.
The Westminster Working Cultures (WWC) programme launched in June 2017, as an initiative designed to provide existing students the opportunity to travel abroad and experience the professional environment and culture in cities globally. It allows students to enhance their employability and develop valuable skills through work shadowing, seminars and workshops offered by Westminster alumni and partner institutions. WWC is open to full-time undergraduate students.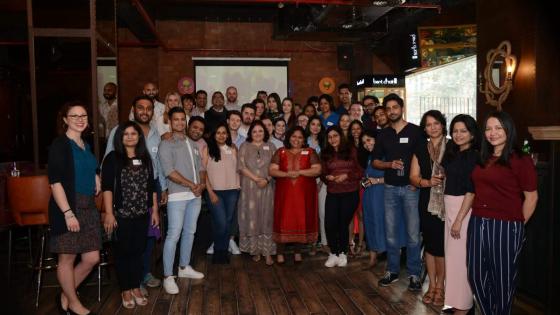 A visit to Mumbai took place in January 2019, where students had the opportunity to enhance their understanding and cultural knowledge of the region. The trip was funded by the Quintin Hogg Trust, meaning that students had minimal costs to bear to participate in the experience.
Alumni Testimonials
Benthara Lakshani, BSc Information Systems (IIT Sri Lanka). Sri Lanka
Our lecturers made the learning experience easy and were available for students at any time. They motivated us to love the subjects and take an interest in them, and delivered the lectures in a manner that was well understood by us. I would invite students to visit the University of Westminster to obtain a world-renowned degree as I have."
Jigar Mehta, MA Marketing and President of the Westminster India Alumni Network (WIAN) New Delhi committee. India
My favourite part of being a student at the University of Westminster was the diversity of students. Our class was a great mix of people from different parts of the world and it just felt like one big family and we are still very much connected through social media."
Local Presence
We have a dedicated team supporting prospective students, alumni and our partners in South Asia, in London and through our regional representation in Delhi. The team regularly travel across the region attending education fairs, school and networking events, and can be contacted directly at [email protected]. Further information can also be found on the dedicated South Asia Facebook page.
Information for Students
If you are an international student looking to study at the University of Westminster, please visit the relevant country page where you will find further information and advice. If you are currently studying with one of our partner institutions and would like to study at Westminster, in the first instance please contact the international office or student support team at your institution.