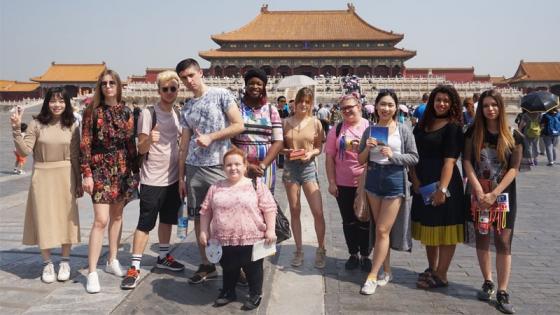 Westminster students experience China.
Global experiences and skills
Students can expand their international horizons and fulfil their global potential by taking part in one of our many opportunities to volunteer, study and work overseas.
Westminster Abroad – providing opportunities to spend time abroad during a degree, such as studying at a partner institution, undertaking a summer internship, volunteering or a year-long Erasmus+ traineeship. Our aim is to help students gain global skills that will help with their future employability. Westminster currently has over 80 exchange partnerships across 25 countries and further growth is planned.
Westminster Working Cultures (WWC) – is an international employability programme for current undergraduate students. The programme, which was launched in 2017, gives students the opportunity to travel to some of the world's major cities where they experience work shadowing, seminars and workshops offered by Westminster alumni and academic partners. Students benefit by growing their professional networks, building confidence and gaining insight into a range of global career opportunities during these 10-day trips. WWC is currently being offered in Hong Kong, Mumbai, Washington D.C, Shanghai and Berlin, as well as an adapted version in London, with ambitious plans to extend the programme to include other global cities. On a recent trip to Washington D.C, a Public Relations and Advertising student said,
"this opportunity to visit Washington D.C. with the Westminster Working Cultures programme was not only a dream come true but also an extremely useful and unforgettable experience where I have learned a lot about the capital's history, culture and professional environment." 
Polylang – one of the oldest and biggest institution-wide open language programmes in the UK with approximately 1,300 students and staff enrolled on courses studying Arabic, Spanish, Chinese, Italian, French, Japanese, German and Russian. The Polylang Plus offers students the opportunity to develop language skills and obtain overseas experience by attending an intensive 2-week language course abroad.
Work placements – helping students stand out from the crowd as they gain real-world experience in a professional company overseas. Not only do students benefit by developing new skills but also learning how to face the challenges of adapting to a foreign work culture.
Opportunities for visiting students
Study abroad
Our study abroad programmes allow visiting students to participate in a range of credit mobility programmes at undergraduate level, spanning a single semester or the full academic year. The programmes are designed to develop students as effective global graduates with placement options available that combine study with work. Ranked number one in the UK for student choice for students from the USA, we are also a committed partner of Generation Study Abroad.
International summer schools
The international study abroad summer school is based in the heart of London and is offered a 3 or 6 week period in June and July. With a wide range of exciting classes, a great social programme and a central London location our London international summer school gives students a springboard to have the summer of a lifetime.
Fulbright University of Westminster Summer Institute
Building on our strong success in the US, the Fulbright University of Westminster Summer Institute is a three-week academic and cultural programme for US students focusing on liberal arts, business and media, art and design. Applications for the Westminster Summer Institute are made directly to the Commission.
Scholarships and funding
Westminster is proud to offer one of the leading scholarships programmes in the UK as well as having long-standing relationships with organisations such as Chevening, US Federal Loans, Santander Group, Saudi Cultural Bureau and Commonwealth Scholarships, all of whom provide funding for international students.
Find out more about being an international student at Westminster.