Winner
John Bert Macato
International Development Management MA, 2015

Before John entered the University of Westminster, he was one of the survivors of the Typhoon Haiyan in 2013. The typhoon desolated 95% of infrastructure and 10,000 people perished. Right there and then, John decided to give back to humanity. His postgraduate degree, where he was a recipient of the University of Westminster Disaster Regeneration Fund, gave him the leverage to handle projects in protracted armed conflicts. He joined the International Committee of the Red Cross (ICRC) and for the past five years, he has been giving his part in protecting civilians affected by armed conflict, especially the vulnerable groups: women and children. John manages hospital projects of the ICRC in such settings.
John was sent to Pakistan for a two-year mission to help develop the hospital project in Peshawar. He was instrumental in setting up the first Nursing Education Services Department of the government sector in collaboration with the Pakistan Nursing Council. The project set up seven training programs to standardise Nursing Practice in the Province of KPK. During the project 1,600 nurses were trained, with a beneficiary reach of close to 20 million people coming from the border of Afghanistan and the Federally Administered Tribal Area outside Peshawar.
Maiduguri, Nigeria was John's second mission. Here he managed a hospital project and led the Mobile Surgical Team (MST) of ICRC treating victims of armed conflicts needing emergency lifesaving interventions. He also repositioned the project to enable a capacity-building approach focusing on developing and training local staff to own the project in the long run. Under his stewardship, the MST performed 2,200 weapon wounded surgeries from Mass Casualty Incidents and other forms of violence. Direct beneficiaries of the hospital include two million Internally Displaced Population of civilians affected by armed conflict.
In 2019, John was sent to Syria during the upsurge of IDPs in Al Hol Camp. He managed the hospital project, enabling about 6,000 consultations and admissions in a four-month period. The camp where the hospital was set up covers about 75,000 individuals, 95% of whom are women and children affected by the armed conflict.
John applied for this award with the hope of influencing new graduates to be part of advocating peace, development and humanitarianism in the different roles we all play, with the hope of creating spaces for each individual in society to realise their value and potential as human beings.
Finalists
Edmilson Angelo
Politics and International Relations BA, 2016

Edmilson is the Founder and Director of Change 1's Life CIO, a UK-registered charity that aims to assist people in need across sub-Saharan Africa who are victims of poverty, and this all started at the University of Westminster as a society. Over the past years Edmilson's work has been recognised by many distinguished institutions such as the United Nations under Kofi Annan and Akon Lighting Africa under the Give1Project. At 26 years old, Edmilson is currently doing his doctoral degree in International Development at the Institute of Development Studies (University of Sussex). He pursued a masters in African Studies from the University of Oxford right after leaving Westminster and became a One Young World Ambassador in 2018.
To date, the work he has been doing with the charity has helped more than 1.5 million people across sub-Saharan Africa through the shipment of donations from the UK to Africa every month and the implementation of various projects such as the Solar Light Project which aims to provide a solar solution to the electricity crisis in Africa through the Solar Helix. Moreover, the charity also implemented an education project whereby they transform the forty containers they ship to Africa into solar-powered classrooms where children can learn and play with both traditional as well as innovative practices of education action.
Edmilson is applying for this award because Westminster is where it all started as a small society and today he is able to be the change he wants to see in the world by helping a significant amount of people. As they are in the process of building a first school in Angola, he is more confident that such milestones deserve more light and he hopes that by winning this award he can inspire more people to change the world how they can, where they are and with whatever they have and show the world why he always says Westminster is the place that made him despite all the other universities he attended.
Joshua Imuere
Computing BSc, 2002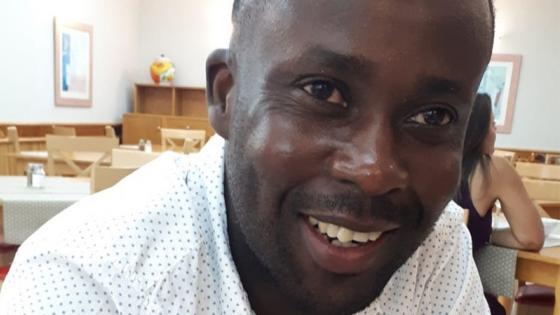 Since graduating, Joshua has embarked on a career in the voluntary and community sector, serving and transforming the lives of some of society's most vulnerable communities over the last seventeen years.
From the very first role as an IT Skills trainer within an employability programme at Pecan Ltd, Joshua spent five years in total there equipping Southwark residents with Microsoft Office suite skills and in the last two years he was promoted to lead the department as team leader. He was able to obtain a teaching qualification during this process that helped shaped his interest in educational inequality and links with social mobility.
He then secured a fairly high-profile role with public sector youth organisation Connexions as an apprenticeship broker. This enabled him to support over a hundred 16-18 year olds into relevant courses with adjourning work placements. It was particularly satisfying being able to secure work placements for young people for who it was their first experience or who were at risk in some way and needed the opportunity to an extent even more than others in the cohort.
Joshua has had the privilege now of being the chief executive of two youth charities, both past and present. In 2011 he was promoted from programme manager to CEO whilst at Southside Young Leaders Academy, the early intervention charity whose mission is to reduce permanent school exclusion which at the time was disproportionately impacting on black and minority ethnic boys. Significant highlights during this period include setting up a coding club using Raspberry Pi devices and securing over eighteen bursary places at leading independent schools for these young people. Joshua also completed a masters in educational policy.
Joshua currently leads Art Against Knives, which is a North London-based youth charity that uses creativity to support young people at risk of exploitation often living in difficult environments. Joshua joined AAK in July 2019 and is now focussing on the development of the strategy to build on their rich history and continue to support more young people, both in breadth and depth.
Joshua's family migrated to the UK, and Joshua had difficulties navigating through education and employment. The support and right environment he had is why he is where he is today and thereby within his 'DNA' lies the need to do so for others.