* Price per academic year
Course summary
This highly regarded course offers a rigorous analysis of the political, economic, cultural and sociological factors which shape the practices and outcomes of mass media. It will give you the opportunity to study and research the main ways in which social scientists have analysed the role of the mass media and communication, and how to develop, evaluate and apply research to evaluate those theories.
The MA ensures that you will receive a relevant, well-grounded, high-quality education and skill base, and a clear and comprehensive understanding of communication and the mass media. It is designed both for those who already work in or want to work in the media, and for those who want to go on to pursue further academic research in media and communication.
Based on continuous assessment, the course is taught in lectures and seminars by the team from Westminster's top-rated Communication and Media Research Institute (CAMRI). You will be part of a bustling, multicultural academic department which boasts a strong research culture. You will be able to attend the regular talks by outside speakers (academics and practitioners) on a variety of communication and mass media issues.
Course structure
The following modules are indicative of what you study on this course.
Core module, semester one
The module is intentionally eclectic. You will cover (in a loosely historical way) the arguments, advantages and problems of the main sociological, cultural and psychological theories about the media. It aims to provide a comprehensive introduction to the most important ways of approaching the fundamental issues posed by the relationships between the media of communication and social and economic life. It will also enable you to understand the problems posed by different intellectual traditions, and to place those theories in their proper contexts.
Option modules, semester one
This module provides an overview of contemporary developments in global media and communication industries and their impact on cultures worldwide. It focuses on transformations in existing media, with a particular emphasis on broadcasting and the audio-visual media and looks at innovations of new information and communications technologies, especially the Internet.
As international regimes and national regulation become increasingly important in the creation and delivery of communications, it becomes necessary to understand how the two levels interact. This module will introduce you to those theories of policy making and international relations which provide tools for the analysis of communication policies, and their dynamic interaction at the national and international level.
This module will introduce you to the political economy approach to analysing the production, distribution and consumption of media content in text and audiovisual form, whether online or offline, as well as the workings of telecoms networks behind online media. It identifies distinctive economic features of media and relates these to trends in the organisation of specific media industries, taking account of ways in which the economics of media have been affected by the spread of digital technologies.
If your first language is not English, or you have no experience of the British education system, you will benefit from this module. You will be taken through the process of producing a piece of written work, from note taking to editing, so as to enable you to produce written work in accordance with current British academic standards and practices.
This module will offer a comprehensive introduction to a range of broadcasting and telecommunications technologies and the internet, enabling you to assess the economic and political issues surrounding each technology. Topics covered include capital investment in networks, how and why technologies change, strategic interests and communications, and substitutable technologies and the creation of markets.
Core module, semester two
This module will introduce you to the main methods of communication research. We shall look at how to undertake selective quantitative and qualitative methods, understanding and exploring the different stages of the social science research process from a definition of a research hypothesis, to data collection and analysis. We shall also look at the theoretical reasoning behind different methodological approaches to media and society, in particular the politics of social research.
Option modules, semester two
This module is for you if you have little or no knowledge of the Chinese media, but nevertheless realise that for anyone interested in the media in the world today, some understanding of the biggest national media system is a necessity. The objective is to introduce participants to the Chinese media in the context of a world order changing on account of the growth in wealth and power of several countries, in particular China. The Chinese media are seen as a factor in this, and also as an example of a media system distinct from the Anglo-American, which has often been touted as a model of universal applicability.
The aims of this module are to provide you with a theoretical overview of the concept of 'development', and the opportunity to consider how it relates to empirical experience in communications in small and developing countries. You will be able to compare the experiences of a range of countries in attempting to retain cultural autonomy, in developing their own communications technologies and policies, in democratisation, and in exporting mass media
This module offers a critical assessment of the role of media in political mobilization, social movements, dissent, wars, conflicts, elections, and political and social crises. The module considers the impact of different forms of censorship and regulation on social, political and cultural expression in the media. It also looks at the impact of the internet and new means of transparency and communications on journalism and activism in a range of circumstances from secure democracies through different kinds of political systems.
This module begins with an overview of media audiences, and goes on to analyse audiences and media institutions, passive/ active audiences, media influence and effects, and ethnography and media audiences. The second part of the module is devoted to discussions of media and identity, fans, diasporas and new media audiences.
This module explores the challenges facing media organisations in the fields of strategy and innovation. It addresses the contextual nature of strategy formation, identifies and analyses key drivers of change within media industries, and examines the application of structured methods of planning in media product and service development. The module applies management concepts and tools to business and strategic challenges confronting public and private media enterprises across the globe.
The module studies digital convergence and the role of policy and regulation in facilitating and controlling that process. The focus is on Internet-related policy debates and concepts drawing mostly on developments in the USA, the European Union and Britain but with a critical awareness of the issues facing developing, transitional and small countries. It critically assesses competing arguments concerning the interplay between policy and technology and implications for market structures and business models, as appropriate.
You will examine both theoretically and empirically different aspects of the news creation, dissemination and reception processes. The module will look at the relevance of different traditions in mass media research to the study of news and will be based on a number of case studies. The module will focus mainly on contemporary practices, in both print and electronic media, but attention to historical and conceptual perspectives will also be given.
Core module, year-long
This module provides guidance on how to conduct a major piece of independent research, supplemented by group work and individual supervision. Group work during Semester One orients students towards identifying and refining their individual research topic, which must be specific to their MA course and route. Dissertation supervisors are assigned at the start of Semester Two. Supervision takes place in Semester 2 and 3. The dissertation is submitted by the end of August.
Programme Specification
For more details on course structure and modules, and how you will be taught and assessed, see the programme specification.
Course Leader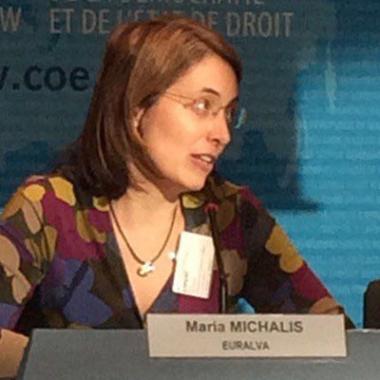 Dr Maria Michalis
Reader
Maria is a Reader in Communication Policy. She has a background in political science and international relations. Her main area of expertise is communication policy and regulation, focusing on Europe but within a comparative context. She is author of Governing European Communications (2007) and has published widely on several television and telecommunication/Internet policy issues, and public service media in the digital age. Her current research is about the process of technological convergence between television and the Internet; changes in the distribution of audiovisual content from a critical infrastructure studies perspective and implications for pubic service media; regulation of online platforms; and Internet community networks. She teaches policy-related optional modules. 
Come and study the factors which shape the practices and outcomes of the media, and explore the complex nature of the globalisation process in this. You'll evaluate and apply research in order to become a critical media expert!
A minimum of a lower second class honours degree (2:2). 
If your first language is not English you should have an IELTS 6.0 with at least 5.5 in each element.
Applicants are required to submit one academic reference.
More information
Students are encouraged to seek work experience in the industry and opportunities are regularly communicated by members of staff. This has often led to full-time employment once graduating from the course. In addition, the MA course takes advantage of the vibrancy of the media environment in London.
For instance, students are encouraged to benefit from events taking place in London, e.g. at Frontline Club. Equally, there are a number of activities within the Department that give plenty of opportunities to students for networking which increases their employability.
An example here is the University's Communication and Media Research Institute (CAMRI) seminars every fortnight where leading researchers present their work. This extracurricular activity promotes networking among MA students and gives them an opportunity to meet PhD students, other research staff and visiting speakers. Further networking opportunities are offered by the regular workshops and conferences which the various research centres within CAMRI organise and which our students can attend for free. These workshops and conferences bring together academic researchers, industry representatives as well as regulators and policy makers.
The MA course is well established and has a strong international reputation. Our students are very successful in gaining employment status, in many cases straight from graduating the course. Graduates have found jobs in middle- and upper management in media industries, as well as the broader private (e.g. consulting and advertising firms) and public sector (e.g. government ministries, regulatory authorities), international organisations and NGOs. Some graduates also continue to do PhD research.
Success in their Masters degree has allowed many who have been in media jobs before joining the course to move into more senior roles within their companies or organisations and to transfer to new sectors of the media.
Graduates from the MA Communication have found roles in a wide variety of media and communications organisations including: CCTV, Xinhua News Agency, BBC World Service, KBS (South Korea).
Our Careers and Employability Service is here to support you to achieve your full potential.
With a growing network of over 3,000 employers around the world and a team of experienced careers consultants, we provide you with a variety of opportunities to work and develop new skills. As a University of Westminster student, you'll have access to our services throughout your studies and after you graduate.
We can help you:
find work placements, graduate jobs or voluntary experience related to your course
discover international opportunities to enhance your employability
write effective CVs and application forms
develop your interview and enterprise skills
plan your career with our career consultants
gain insights into your chosen industry through mentoring
meet employers and explore your career options at our employer fairs, careers presentations and networking events 
Find out more about the Careers and Employability Service.
Find out more about other employability initiatives at the University of Westminster.
UK and EU tuition fee: £8,500 (Price per academic year)
When you have enrolled with us, your annual tuition fees will remain the same throughout your studies with us. We do not increase your tuition fees each year.
Find out how we set our tuition fees.
Alumni discount
This course is eligible for an alumni discount. Find out if you are eligible and how to apply by visiting our Alumni discounts page.
Funding
As well as tuition fee loans, there is a range of funding available to help you fund your studies.
Find out about postgraduate student funding options.
Scholarships
The University is dedicated to supporting ambitious and outstanding students and we offer a variety of scholarships to eligible postgraduate students, which cover all or part of your tuition fees.
Find out if you qualify for one of our scholarships.
International tuition fee: £17,000 (Price per academic year)
When you have enrolled with us, your annual tuition fees will remain the same throughout your studies with us. We do not increase your tuition fees each year.
Find out how we set our tuition fees.
Alumni discount
This course is eligible for an alumni discount. Find out if you are eligible and how to apply by visiting our Alumni discounts page.
Funding
Find out about funding for international students.
Scholarships
The University is dedicated to supporting ambitious and outstanding students and we offer a variety of scholarships to eligible postgraduate students, which cover all or part of your tuition fees.
Find out if you qualify for one of our scholarships.
Course Location
The vibrant home of our creative, media and digital courses, the Harrow Campus offers one of the richest portfolios of creative industry research and learning in Europe. The recent redevelopment of the campus has seen the creation of fluid, informal learning spaces, dedicated project and gallery spaces and a revamped library. For more details, visit our Harrow Campus page.
Contact us
We have an FAQs page if you are applying this year.
Or you can contact the Course Enquiries Team:
Opening hours (GMT): 9am–4pm Monday to Friday
Your Westminster
Book an open day. Order a prospectus. Sign up for newsletters.