On this page you can find out more about each of the different volunteering and voluntary work opportunities available to you.
It is important that you understand the difference and that you are able to make the right choice.
Volunteering is open to all regardless of your student status (international, home, part-time, full-time etc). Provided you have the time and you can afford to do it (given that it only covers out-of-pocket expenses), there is no limit to the hours that you can volunteer. This is not the case with voluntary work however.
Voluntary work is no different to any other type of work. It is governed by the National Minimum Wage regulation and hours go towards your 20 hour per week limit as a student.
Here is a simple diagram which explains the differences: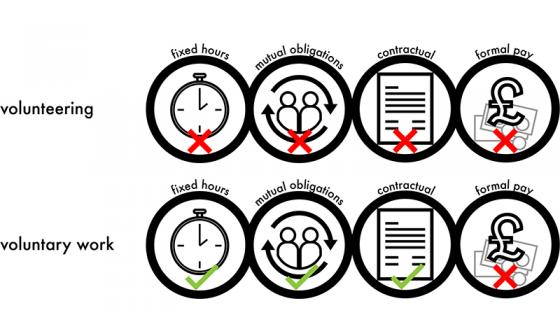 Volunteering
Volunteering relates to prosocial activities you do by choice. Unlike Voluntary Work, volunteering is non-contractual – you complete the work as and when you choose to, and are not paid for your efforts.
Although volunteers do not receive formal pay, host organisations, for example charities advertising vacancies through our Student Volunteering Service, are still expected to cover costs for volunteers, like your travel and lunch.
Different forms of volunteering
University roles: within the University, there are always plenty of opportunities to volunteer – whether through a specific college, Student Union societies, social enterprise projects or one-off events.
External roles: the Volunteering Service has links with over 300 charities, and through our Engage platform over 700 students found volunteer roles last year. Roles may often assist charities, but may also serve private sector businesses or public/community initiatives like local schools.
One-off volunteering: for many students, it is not easy to make a regular commitment as a volunteer. In such cases, the University still posts plenty of one-off or short-term events, usually requiring a few hours or days, where you may still contribute and develop. Visit our one-off opportunities.
Regular volunteering: for some, volunteering with a charity may carry on for a bit longer, perhaps a few weeks or months, and on specific weekdays.
Student-led and live projects: if you've got your own ideas for a socially beneficial project of some kind, we would love to help you develop this. There are also plenty of shorter-term live projects which will allow you to get involved with existing projects, for example building apps for a local charity.
Volunteering abroad: You can also travel abroad during your studies to take part in volunteering, find out more about overseas volunteering or contact the Student Mobility Team.
Please email [email protected] for support with developing and implementing your volunteering and/or social enterprise project.
Voluntary work
Voluntary work is a more formal, contract-based contribution made to a charitable organisation, usually with fixed working hours and responsibilities. Although voluntary workers do not receive formal pay, host organisations advertising vacancies with the Student Volunteering Service are still expected to cover related costs for volunteers like your travel and lunch.
Types of voluntary work include:
Work experience: roles arranged directly with a for-profit business to gain experience in a specialist subject, for example broadcast media. These usually allow you to enhance your employability at a later stage when looking for a job.
Work placements: similar to work experience, but typically arranged through your college as a complement to your studies (eg medical electives). Find out more about Work Placements.
Social enterprise
The Student Volunteering Service finds vacancies each year from social enterprises. These are businesses whose main aim is to respond to a social problem, for example an eco-friendly bike scheme. Social enterprises offer dynamic experience for students to contribute to your specialist skills, so keep an eye on Engage to see what's available.
If you have a social enterprise idea that you would like to explore, we will be able to offer you technical, administrative and logistical support, such as:
Help you develop your ideas further
Links with potential partners from the third sector
Offer links and access to additional advice and support
Support to find seed funding
Support to find student volunteers 
Email [email protected] to find out more.