Boost your CV and become more attractive to potential employers. Complete the award to guide you through your options and gain experience to get you job-ready.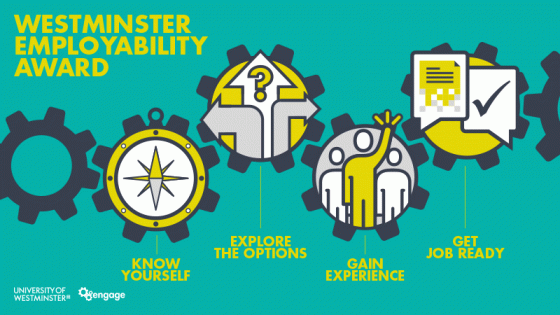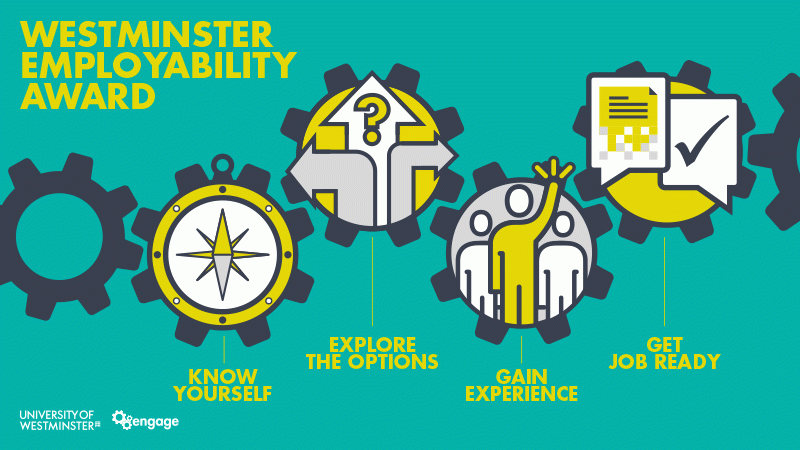 What is the Westminster Employability Award?
Westminster Employability Award is an employability achievement award supporting your career and personal development by formally recognising the extra-curricular activities you complete during your time at the University of Westminster. 
It is designed to help you gain experience and develop key skills that employers want you to have. Find out more about yourself, explore different options and get job-ready by completing the Award.
How to sign up
Go to Engage and register to participate in the Award 
Start completing activities and collect points towards the Award
Any previous eligible activities will be backdated to September 2016, so if you have already attended events or participated in qualifying activities, you would have gained points towards the Award. Log in now to see how many points you might have already collected.
When to complete the Award
You can complete the Award during your time at the University of Westminster. There is no sign-up deadline, and you have until 1 May of your graduation year to complete the Award.
Why you should get involved
Nowadays, employers want much more than just graduates with a degree. They value individuals who have invested in their personal and professional development and have gained skills through various activities. 
You will get recognition for the extra-curricular activities you do on and off-campus and will be able to identify and evidence the skills you have developed to potential employers.
Watch this video to find out what our students say about completing this Award:
Upon successful completion of the Award, you will:
Receive a digital badge for achieving a Bronze, Silver or Gold Award
Add something different to your CV and stand out from the crowd
Gain confidence and be able to articulate your skills and experience to employers
Attend the Vice-Chancellor's Employability Awards celebration event in June
Get a chance to win one of the 15 financial rewards* (terms and conditions apply) for the highest achievers:

12 x £500 for top UG scorers; four per College
3 x £500 for top PG scorers; one per College 
How it works
The Award consists of a selection of pre-mapped core and optional activities across four stages. You can complete the activities in your own time, and you can start at any stage based on your current situation. If you haven't done any career preparation so far, we recommend you start from the "Know Yourself" stage.
Core activities – these are mandatory and therefore, must be completed to qualify for the Award. 
Activities include: 
skills audit
attending events on campus
CV and interview preparation
reflective exercises
Optional activities
These are the activities that give you points, and you can complete as many as you wish. You can gain from 10 to 20 points for completing a mixture of online tasks and real-world experiences.
Activities include:
personality test and careers assessments
joining University-run schemes such as Mentoring, Explore Teaching, FANS
gaining experience through a part-time job/placement/internship/insight days
developing your skills digitally
Complete the core activities and collect enough points from optional activities to qualify for the Bronze, Silver or Gold Employability Award. To achieve this, you need 50 points for Bronze, 100 points for Silver or 150 points for Gold Award.
If you want to review your development through the Employability Award or discuss your career next steps, you can book an appointment on Engage with one of our Careers Consultants.
Contact us
If you have any questions related to the Award, please email us at [email protected] or ask us a question through Engage.
Frequently asked questions
* Financial rewards terms and conditions: 
Eligibility criteria 
Rewards will only be awarded to fully enrolled students at the University of Westminster 
Students must have completed the Award before 1 May 2020. This involves completing all core activities and reaching at least 50 points
The winners must have the highest number of points for their College at UG or PG level 
Prizes information 
There are 12 x £500 financial rewards which will be awarded to 12 UG students with the most points, four per College
There are 3 x £500 financial rewards which will be awarded to three PG students with the most points, one per College
If there is a draw where students share the same number of points, the University reserves the right to ask students for additional information in support of their progress with the Westminster Employability Award. This will be reviewed by an independent panel, whose decision is final.