Each year the Volunteering Service recognises successful volunteers with awards for their unique achievements.
Through their volunteering efforts, students may be eligible for:
Certificate of achievement
All student volunteers regardless of the number of hours or the area of their volunteering are eligible for a Certificate of Achievement from the University. Apply for your Certificate online.
Westminster Distinctiveness Award for volunteering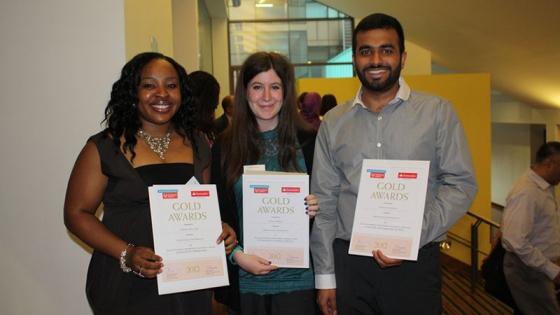 Each year, this award is presented by Student Volunteering Services to up to three student volunteers who have demonstrated an outstanding contribution to the community through participation, innovation and creativity. Apply online for this award.
Higher Education Achievement Record (HEAR)
The Higher Education Achievement Record (HEAR) is a formal degree transcript that provides a full record of your university achievements, including both academic and extra-curricular learning and experience. Volunteering is one of the extracurricular activities that you can have recorded on your HEAR.
Only verifiable 25 hours or more of volunteering can be recorded on the HEAR.
To request a HEAR recognition for your volunteering, please email [email protected].
Accredited volunteering
If you want to benefit from formal assessment and recognition of your volunteering efforts, there are a number of awards and college initiatives available.
In addition to electives specific to your school, University-wide elective modules are now available for undergraduate students throughout the University. Community Engagement through Volunteering offers students of all colleges the opportunity to receive academic credits and formal assessment for your volunteering.
The module takes place in the second semester (January to April) each year. During or prior to this time, enrolled students have to complete 75 hours of volunteering and two pieces of coursework. There are no lectures or formal taught sessions on this module, as students are expected to develop and identify areas of learning through their own volunteering activity.
If you have questions about the module or are interested in applying for the 2017–18 year, please email us at [email protected] for further information.