* Price per 20-credit module
Course summary
In light of the current Coronavirus (COVID-19) situation the RIBA Part III continues as usual with teaching including tutorials and lectures being delivered online. We are committed to supporting our Part III students and facilitating the completion of this course.
This third and final adjunct of architectural education is designed to take place during the second period of mandatory practical training after the completion of the Part 2.
The course can be completed in 12 to 24 months, according to employment circumstances. Graduates of the course receive a Postgraduate Diploma in Architectural Professional Practice and can apply for registration with ARB, and for Chartered membership of the RIBA. On this course, you will take modules totalling 120 credits.
The Diploma is the final part of an architectural student's professional training and the culmination of a minimum of seven years' education and professional development. The content of the course and each module builds on the professional experience and knowledge that you will have gained over this period.
Lecture sessions will be delivered in a multi-mode format including online webcast allowing you to watch online from your workplace or home, or attend the campus when it reopens. All lectures are recorded enabling you to catch up in your own time or watch them again.
Subject to approval from the Architects Registration Board (ARB), we will be conducting the orals online for the foreseeable future
Course structure
The following modules are indicative of what you study on this course.
Core modules
This module aims to develop your understanding of the role and value of the architect in the commissioning, procurement and management of architectural projects. It builds on the legal and practice models studied in the law module and places them in a wider managerial context. It also introduces and applies generic management principles and relevant procedures to the key elements of the design and construction cycle, and places current practice in the context of wider developments in construction and the built environment. Topics covered include organisational and financial management in architectural practice, marketing and briefing, the Plan of Work, and the role of the professional in the construction team. It is delivered as an intensive three-day short course during January.
This module investigates the principles of construction law, relevant statutory regulations, procurement, forms of construction contract and dispute resolution. It is delivered as a series of ten lectures with question and answer sessions. You will be expected to carry out self-directed learning during the semester relating to each lecture topic.
This work-based module allows you to choose an architectural project to demonstrate your knowledge and understanding through analysis and evaluation of a project and the professional, legal, organisational events relevant to architectural practice. You will develop your analytical and evaluative skills, and your ability to present clearly complex data and events. The module builds on the theoretical models and practical examples studied in the taught modules, and develops your understanding of the key areas of professional practice, design and construction and provides an opportunity to make professional judgements and recommendations for future practice.
This work-based module consists of the Professional Experience and Development Record, a professional Curriculum Vitae, a Critical Self-Appraisal and an Oral Examination (the Viva Voce). The module enables you to assess the experience you require for practice, to evaluate your achievements and experiential learning in the professional workplace, and to demonstrate your professional judgement based on that experience.
Programme Specification
For more details on course structure and modules, and how you will be taught and assessed, see the programme specification.
For general enquiries about the course, please email [email protected]
To request an accessible version of the programme specification, please email [email protected]
Course Leader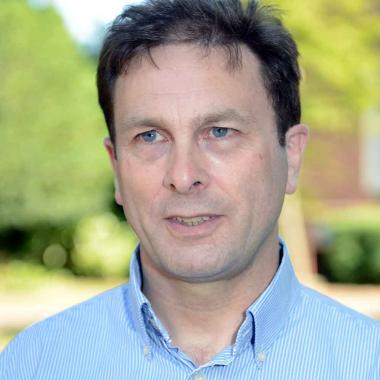 Alastair Blyth
Assistant Head of School
Alastair is an architect and with a specific research interest in learning environments. He also has an interest in professional practice in architecture. His personal blog site is Re-imagining Spaces for Learning.
Before joining the University of Westminster in June 2016, he was an analyst at the Organisation for Economic Co-operation and Development (OECD), in the Directorate for Education and Skills where his work focused on policy advice for governments on the design, procurement and evaluation of learning environments.
Alastair was also the Education directorate lead on the OECD cross-directorate project on the OECD Green Growth Strategy. With a particular interest in higher education policy, he was chair of Education Outlook on Higher Education in Australia: 2009. 
I am an architect and with a specific research interest in learning environments. I also have an interest in professional practice in architecture.
Applicants are required to have RIBA Parts 1 and 2. You must have RIBA Parts 1 and 2 from a recognised school of architecture or have normally successfully passed the ARB assessment for RIBA Parts 1 and 2. 
If your first language is not English you should have an IELTS 6.5 with 6.5 in all components.
More information
The Diploma in Professional Practice in Architecture is a professional qualification leading to registration as an architect with ARB and professional membership of the RIBA. Students who have successfully completed the course have obtained senior positions or taken greater responsibility in architectural practice, developed their own architectural practice and also gone on to work overseas. Former students have also developed specialism in construction law. The Diploma may also form a platform for continuing study in academia and research and may lead to study for an MPhil/PhD degree.
Our Careers and Employability Service is here to support you to achieve your full potential.
With a growing network of over 3,000 employers around the world and a team of experienced careers consultants, we provide you with a variety of opportunities to work and develop new skills. As a University of Westminster student, you'll have access to our services throughout your studies and after you graduate.
We can help you:
find work placements, graduate jobs or voluntary experience related to your course
discover international opportunities to enhance your employability
write effective CVs and application forms
develop your interview and enterprise skills
plan your career with our career consultants
gain insights into your chosen industry through mentoring
meet employers and explore your career options at our employer fairs, careers presentations and networking events 
Find out more about the Careers and Employability Service.
Find out more about other employability initiatives at the University of Westminster.
Find out more
Architecture and Interiors at Westminster
Watch our video to find out more about studying Architecture and Interiors with us.
UK tuition fee: £600 (Price per 20-credit module)
Find out how we set our tuition fees.
Funding
As well as tuition fee loans, there is a range of funding available to help you fund your studies.
Find out about postgraduate student funding options.
Scholarships
The University is dedicated to supporting ambitious and outstanding students and we offer a variety of scholarships to eligible undergraduate students, which cover all or part of your tuition fees.
Find out if you qualify for one of our scholarships.
Additional costs
See what you may need to pay for separately and what your tuition fees cover.
International tuition fee: £600 (Price per 20-credit module)
Course Location
Our Marylebone Campus has benefitted from a multi-million-pound refurbishment resulting in new workshops, digital studios and development of the Marylebone Library. The campus is home to Westminster Business School and our award-winning Architecture, Planning and Tourism courses. For more details, visit our Marylebone Campus page.
Contact us
We have an FAQs page if you are applying this year.
Or you can contact the Course Enquiries Team:
Opening hours (GMT): 9am–4pm Monday to Friday
Your Westminster
Book an open day. Order a prospectus. Sign up for newsletters.