The University hosted the annual Psych4Schools event to ease students' transition into higher education and the study of psychology as a scientific subject.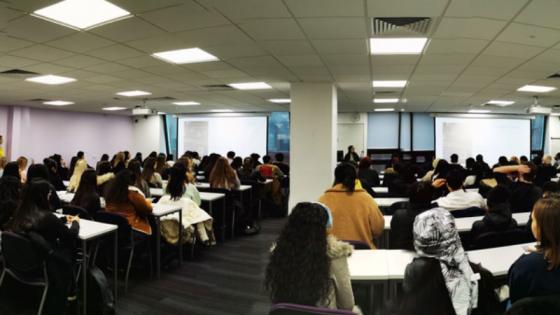 More than 100 Year 12 school students and their teachers attended the event at the University's Cavendish Campus. 
This year, the students were treated to a variety of lectures on topics that included looking after mental health, using examples from Harry Potter and counselling psychology, the teenage brain, the role of forensic psychology in solving crime and the relationship between the brain and speech with the aid of a beatboxer. 
The workshops gave students an opportunity to try mind-body therapies such as guided meditation, experience a human library, receive top tips on completing a UCAS application, use psychology testing equipment, explore memories and learn about techniques for resilience. 
The event was supported by the University's Student Ambassadors and concluded with a panel discussion where psychologists provided insight into their personal academic journeys as researchers and academics.
The event was a result of teamwork between Aimee Andersen and Eleri Kyffin from Libraries, Kate Theophilus from Research Development, Paul Hampson, Sinead Collins and Caitlin Pedder from Outreach as well as those from Psychology: Alan Porter, Professor Catherine Loveday, Alessandra Caso, Samuel Evans, Harriet Wichtowski, Cassie Hazell, Ilham Sebah, Jo Birkett, Haulah Zacharia, Lejla Mandzukic-Kanlic, Dr Karen Bunday, Robin Law and Deborah Husbands. 
Sim Bose, Headteacher from Barnet and Southgate College, commented: "The event provided our students with a very informative, insightful and inspiring day – they thoroughly enjoyed themselves and were talking about it with much zeal."
Alan Porter, Head of Psychology and Assistant Head of the School of Sciences said about the event: "I was delighted to meet so many engaged and motivated Year 12 students at our Psych4Schools event and share with them my love of psychology. I hope the lectures, workshops and discussion sessions encourage them to think about studying psychology, counselling and neuroscience at university."
Learn more about public engagement at the University of Westminster.