The University of Westminster alumni team hosted another talk in the 'What It Takes' series called 'What It Takes to be a Successful Woman in Tech'.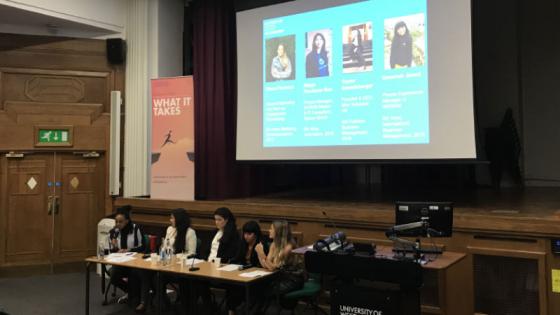 The panel was made up of four alumnae of the University who provided insight into how female students and recent graduates can prepare for their future careers in tech. They spoke about how they ended up in their careers, how they stayed in the tech industry and the challenges and hurdles they had to overcome. 
The first panellist was Diana Florescu, Head of Marketing and Start-up Engagement at Rainmaking and a 2016 graduate of the Marketing Communications BA Honours course. Rainmaking is a global innovation firm using the power of entrepreneurship to build and transform business with the world's leading corporations and start-ups. In her role, she oversees the company's branding and digital marketing activities across ten countries. 
Rituja Ravikiran Rao, Project Manager, SCRUM Master and IT Consultant at Sparta Global was the second panellist. She graduated from the Journalism BA Honours course in 2018. She specialises in Digital Transformation and IT Implementation at Sparta Global, a technology services company, where she actively manages projects within the fintech and banking industries. Rao's time at the University inspired her to venture beyond her own subject and harnessed her interest in tech, through tech journalism. 
The third panellist was Taylor Semelsberger, Founder and CEO of Miro Solutions UK and a 2018 graduate of the Fashion Business Management MA course. Miro Solutions UK is a software-based company that uses augmented reality to help customers choose the correct size when selecting a product during online shopping. After visiting the University's Creative Enterprise Centre (CEC), she won a place on their Graduate Venture Accelerator Programme, as well as the first ever Acceleration Award that would provide her, as a recent graduate, with £2,500 of funding for her business.
The fourth and final panellist was Umarrah Javed, who graduated from the International Business Management BA Honours course in 2015 and now works as a People Experience Manager at WERKIN, a tech start-up providing tech-enabled mentorship to underrepresented communities. Javed is incredibly enthusiastic about the growth mindset and about creating authentic and fulfilling lived experiences for women, BAME and LGBTQ+ communities through tech. She is also a mentor with the Career Mentoring Scheme at the University. 
The talk was in partnership with the Creative Enterprise Centre (CEC), who run an award-winning programme of workshops and events to aid Westminster students, graduates and alumni to develop transferable enterprise and employability skills and to gain practical and first-hand industry insights and networks. 
Javed said during the panel: "I don't know anything at all about actual coding or building scripts with Java, but I have come to learn that [the industry] is so much more. The industry is insane, you could be someone who can't do any of that but be someone who can inspire people to do that and that's an incredible position to be in."
Semelsberger said: "I think the thing that excites me the most is mixed reality, which is something that I think about a lot in my business, but I think that social media has already kind of allowed us to live in other countries and had experiences through other people. I think now we're going to see retail and all these different other experiences, allowing us to live through them in a similar way but with technology and I think that's really exciting." 
The next 'What It Takes' panel will be 'What It Takes to Get In and Get On' on 10 March. 
Book your free place on the next talk on the University website.