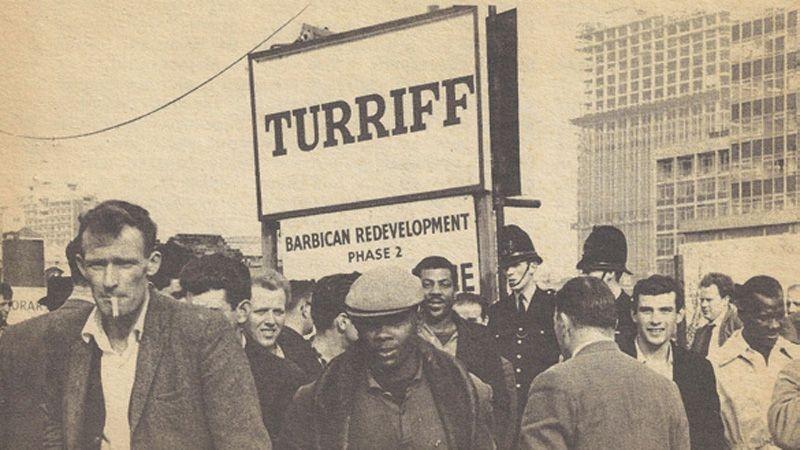 Designed by Chamberlin, Powell and Bon, and built over a twenty year period during 1962-1982, the Barbican re-development embodied new ideas about living and working. The plan was for an innovative combination of housing and landscaping, as well as a school, business centre, pond and the largest performing arts centre in Europe, spread out over forty acres and all constructed almost entirely of in situ concrete. Located in Cripplegate, an area that had been destroyed by the Luftwaffe during World War Two, and home to just 48 people, the idea was to create a tranquil and spacious city within the City of London, and re-populate with middle-class professionals a district that had been in serious decline for over a century. But although innovative in concept and design, and later awarded Grade II listed status, the re-development was also notable for the many difficulties that accompanied its construction. This resulted in massive delays in the completion of the project and a huge escalation in costs.
The workers engaged in the building of the Barbican faced a wide range of problems, including major design flaws; an outdated industrial relations framework; a relatively untried payment system; a weak national trade union leadership; and health and safety hazards. Although engaged in the construction of a celebrated landmark of modern architecture they were subject to the most backward and dangerous of conditions.
Many who built the Barbican responded to these difficulties with imagination and integrity. And in an industry that was notorious for its casualised, non-union nature, they tried to fashion a new way forward for trade unionism; one that was based on the principle of greater unity between all building workers; and one that was capable of providing for all building workers decent levels of pay, stable employment and good working conditions.
Find out more:
Barbican images
Find more images and details about them below:
 
Picket on Myton site (Morning Star, 21 February 1967)
Victorious Barbican building workers show union cards after strike on Turriff site (Daily Worker, 15 October 1965)
Crane erectors on Laing Barbican site (Courtesy of John Steeden)
Flats on the Barbican estate (Photograph 1960s by John Gay © English Heritage)
Mass picket at Myton site : following attempt to break strike. (Morning Star, 4 April 1967)