Westminster alumnus Dr Mustapha Bittaye, who is a Postdoctoral Scientist at the Jenner Institute, University of Oxford, is one of the core team of scientists who worked on the Oxford-AstraZeneca COVID-19 vaccine, which was approved for use in the UK last week.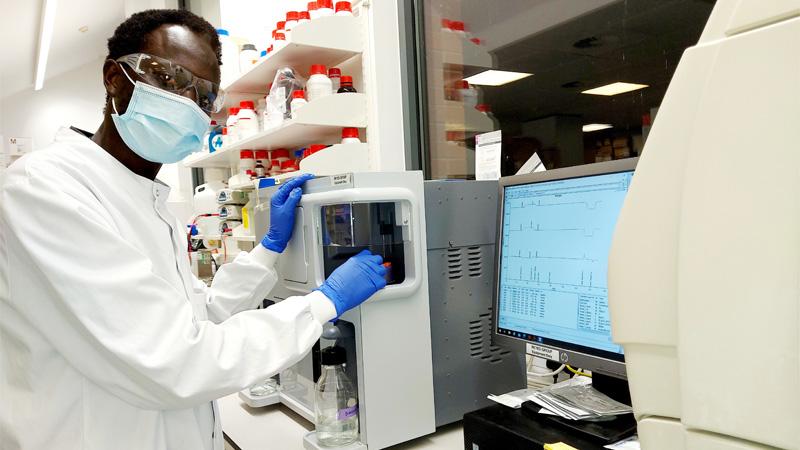 Dr Bittaye, who graduated from Westminster in 2012, joined the Jenner Institute at the University of Oxford in 2019 as a Postdoctoral Scientist to work on the development of vaccines against emerging viral pathogens such as Middle-East respiratory syndrome coronavirus (MERS-CoV), Lassa, and Nipah viruses. After just a year in his post, Dr Bittaye became one of the key scientists involved in the development of the Oxford-AstraZeneca vaccine. The work Dr Bittaye and his colleagues had completed in their MERS-CoV vaccine trial became the blueprint for the COVID-19 vaccine programme, which began its rollout in the UK on 4 January.
Looking back on his experience working on the Oxford-AstraZeneca vaccine, Dr Bittaye described it like no other in his entire career. He said: "Although the framework was already in place for delivering such a massive trial, the incredible speed at which we had to do everything was just unimaginable. It was a race against the virus, to try and save lives and livelihoods as well as restore normality around the world." 
He added: "Whilst the WHO simple message to all countries was test, test, test, my everyday message was plan, plan, plan. I was also aware the vaccine I was involved in developing, if successful, offered the best hope of having an immediate global impact due to its stability, affordability and ease of production at large scale. This gave me extra motivation to work even harder for a course that has only one goal, to save lives and end the pandemic everywhere."
Dr Bittaye began his scientific career in 2008 as a Laboratory Technician at the Medical Research Council Unit in The Gambia, where he enrolled on Westminster's distance learning diploma programme in Biomedical Sciences. Following the completion of his diploma as best student in the programme in 2009, Dr Bittaye secured a scholarship from Westminster and moved to London to pursue the University's full-time Biomedical Sciences BSc Honours course. Upon graduating in 2012 with a first-class degree and best student in the entire programme, he re-joined the MRC Gambia as a Scientific Officer in 2013 to work on the Malaria drug trial. In 2014, he pursued his PhD in Microbial Proteomics at the University of Aberdeen.
Looking back on his time studying at Westminster, he said: "This was the defining moment of my career that laid the foundation for everything I went on to achieve."
He added: "The most valuable thing I learned while studying at Westminster was the need to develop a strong personal and professional network. The cultural diversity and supported learning environment at the University enabled me to surround myself with a diverse network of individuals who played a key part in helping me unlock my hidden talents and fulfilling my potential."
Talking about his advice for students pursuing Sciences at Westminster, Dr Bittaye said that the only obstacle that can prevent students from achieving their dreams is their mental strength. He said: "I therefore advise students to believe in themselves, seek out mentors, harness the power of their unique abilities and above all learn to enjoy every experience through the journey and focus less on the outcome. Science has the potential to transform society, and being part of the force that drives that transformation for the benefit of humanity is something everyone should aspire to do."
Dr Ian Locke, Director of Learning, Teaching and Quality for the School of Life Sciences, said: "Mustapha is a prime example of what can be achieved with drive, dedication and the right environment to nurture and develop that drive. My colleagues and I in the School of Life Sciences are proud to have played a part in his development as a scientist and, along with the rest of the nation, and indeed the world, offer our congratulations and thanks to the Oxford team and AstraZeneca on the roll out of their game-changing vaccine."
Professor Brendon Noble, Head of the School of Life Sciences, added: "We are training top class professionals for the UK's medicines development and diagnostics sectors and we are proud of this fact. Mustapha is working in a team that has overcome enormous challenges, demonstrating resilience, innovation and sheer hard work in order to deliver for the UK and for the world. I can think of no other work more important at this time and congratulate him on his achievements."
In these unprecedented times, the University of Westminster has been proud to see its students, alumni and colleagues rally together to offer a helping hand to those in our communities and beyond through volunteering in COVID-19 testing facilities to transferring crucial high-tech equipment, making a huge difference during the coronavirus outbreak.
Learn more about how Westminster has helped during the coronavirus outbreak.
Find out more about Biological and Biomedical Sciences courses at the University of Westminster.