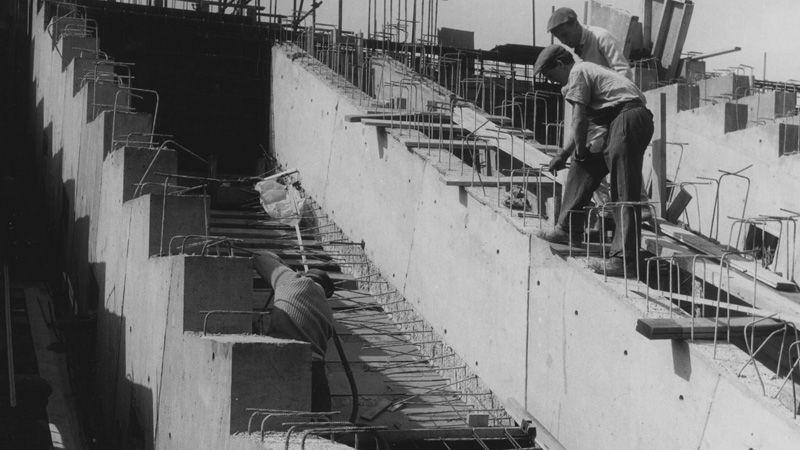 On 23 March 1961, the plan for a new £4 million arts centre on the South Bank was revealed by the London County Council. The aim was ambitious: to turn the South Bank Festival Hall area into "the greatest centre of culture in the world." The final scheme, which included extending the Royal Festival Hall and constructing a new concert hall, a recital room and an exhibition gallery, was not just a major political and cultural achievement; it was also architecturally and technically ground-breaking. Higgs and Hill Ltd. became the main contractor for the proposed works, with Ove Arup & Partners acting as structural engineers.
Seen by many as a paradigm of brutalist architecture, there is general agreement on the unique quality of the in situ concrete of the complex. For the men who worked on the Queen Elizabeth Hall, the Purcell Room and the Hayward Gallery, it involved challenging work. Draughtsmen, shutterers, setting-out engineers, scaffolders, carpenters and steel fixers were all part of a well-defined series of stages leading to each finished concrete element of the complex. Before any concrete pour there was also an elaborate system of checks, which ensured that nothing went wrong and that the concrete that emerged when the shuttering was struck matched the architects' exacting specification. It was not only the concrete work that was highly skilled; the finishing carpentry and joinery work inside the concert halls, including the Helmholtz resonators lining the walls to absorb low-frequency sound, demanded high levels of skill as well.
The South Bank was for the most part a trouble-free site. One reason may have been that the main contractors did not make use of labour-only subcontracting. In fact, some of the men who worked on the site think that it would not have been possible to complete such a demanding concreting scheme had they done so. The complex, interlocking shapes of Queen Elizabeth Hall and the Hayward Gallery demanded discipline and coordination at all points of the building process. For those involved, as revealed in the oral testimonies recounted in this research, they can still recall in detail the rigorousness and precision that went into creating a masterpiece in concrete.
Find out more:
South Bank images
Find more images and details about them below:
Formwork being made in on-site carpentry shop for spiral staircases (Crown Journal)
Finished staircase leading from ground to upper terrace level photographed in 1960s (Crown Journal)
Higgs and Hill crane (Courtesy of Rod Bond)
Over view of site looking towards Waterloo bridge and a range of activities including steel-fixing and carpentry (Courtesy of Rod Bond)
Staff employed on the Queen Elizabeth Hall (Crown Journal)