Students on the Television, Film and Animation courses at the University of Westminster have received 11 nominations at the Royal Television Society's student awards in the London region.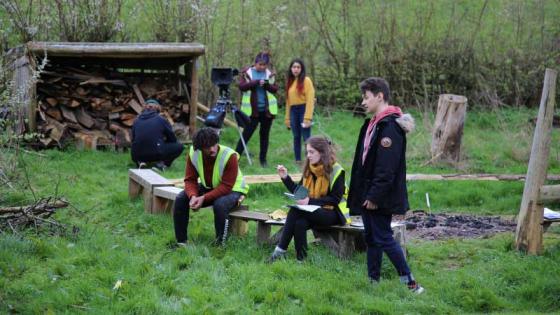 Teams of students from the Film BA Honours course have received a total of seven nominations for the graduation films 'Audrey and the Rocket', 'Cutting' and 'Cuckoo' in the Drama category. Documentary 'Oh Me Lads' was nominated in the Factual category and second-year comedy 'Mr & Mrs Bucket' was nominated in the Entertainment category. 'Cutting' was also nominated for Best Sound and 'Mr & Mrs Bucket' was nominated for Best Production Design. 
Peter Hort, who has recently stepped down as the Film BA Honours Course Leader after 14 years, said: "I'm really proud of the students. Four of the five graduation films from 2019 have been nominated, which makes this one of our best years ever." New course leader Tom Hooper added: "I have been immensely impressed by the dedication of our students, and their ability to tell emotionally engaging and ambitious stories."
Students from the Television Production BA Honours course received two nominations in the Factual category for 'Freedom from the Alley' and 'Stoke-on-Dust'. 
Jane Thorburn, Lecturer on the Television Production BA Honours course, said about the nominations: "Both the Television Production documentaries, in very different ways, offer rare and valuable insights into the lives of people living on the margins of society in the UK today. We are proud that our students are prepared to tackle difficult subjects in ways that communicate with audiences. 'Stoke-on-Dust' was viewed over 3 million times online within a few months of being uploaded." 
Students from the Animation BA Honours course have been nominated in the Animation category for 'Cold Fish' and in the Short Form category for 'Ba-na-na-na'. 
Stephen Ryley, the Animation BA Honours Course Leader, said: "Our animation students are very excited to be nominated in two categories this year: it is a credit to their hard work and determination."
The Royal Television Society's student awards celebrate the best audio-visual work created by students at undergraduate and postgraduate levels. The Royal Television Society is an educational charity, designed to encourage and celebrate work in television and its related fields. They frequently hold seminars, screenings and masterclasses and their regional centres offer support and advice for all those interested in television. 
The awards ceremony will be held on 18 March at Channel 4 and will be hosted by TV presenter Sabrina Grant.