The Alumni team at the University hosted a talk about how to navigate through 21st century careers as part of their 'What It Takes' series.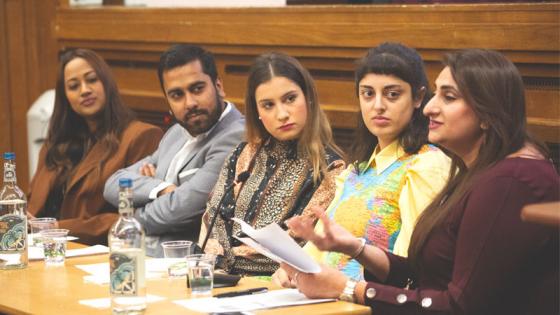 The panel discussed how jobs have changed, gave advice on preparing for life after university and answered questions on their own career journey and how tech, digital and media skills helped them along the way in their careers. 
The event was organised in partnership with the University's Creative Enterprise Centre (CEC), which runs an award-winning programme of workshops and events to aid students, graduates and alumni to develop transferable expertise and employability skills and gain practical and first-hand industry insights and networks. 
The first speaker was Manimekala Fuller, Founder and Designer of Manimekala and graduate of the Fashion Design BA Honours course. Upon graduation, she established her namesake brand, with an emphasis on transparent and positive production methods, she has worked with social enterprises in both the UK and India as a reflection of her heritage. For her work she has been nominated for both design and entrepreneurship awards, and she recently made her London Fashion Week debut.
The second panellist was Georgiana Mariut, a graduate of the International Relations and Development BA Honours course, who now works as a Multilingual Cyber Security Recruiter at NINE by SATIGO in London. After graduation Mariut gained her Master of Laws (LLM) from Birkbeck, University of London and went on to gain a mix of international experience, working in different sales environments. Her overall focus is to integrate geographical and cultural aspects of the markets with key networks globally. 
The panel also included Paras Fatnani, Global Marketing and Communications Director at Quacquarelli Symonds (QS) and co-founder of Honey Twigs, who graduated from the Marketing Communications MA course. As part of his role at QS, Fatnani oversees global candidate acquisition, engagement, social media marketing and event marketing for al QS' Business-to-Customer products. In his role at Honey Twigs, a brand that aims to help consumers adopt healthier lifestyles, he oversees business vision and growth and drives the company's global marketing and new business strategy. 
The fourth and final speaker was Keeran Gunnoo, Head of Brand and Attraction at Sky, who studied on the Business Management (Human Resource Management) BA Honours course. During her career, Gunnoo has been able to work personally with the CEOs of LinkedIn, Glassdoor, Unilever and Avon. She also met with former President US Barack Obama. In 2016, Gunnoo delivered the inaugural lecture as part of the launch of the University's Marketing Society and was recognised by the Dean of the Westminster Business School as one of their notable alumni. 
The panellists took the time to answer questions both during the Q&A and informally after the event with refreshments and networking.
At the event, Gunnoo said: "I never expected to be where I am now. I don't even think a couple of weeks ago I thought I'd be putting a video together with Jude Law and Zac Efron. I'd probably say some of the key things I've learnt in my career is to treat everyone equal, no matter where they are, no matter what level they are. Be kind and have fun when you're working. Get to know other people in different teams – I think that's really important."
The next event in the series, titled 'What It Takes to Communicate with Confidence', will take place on 26 November at our Little Titchfield Street site.