The What it Takes series is back with their event Level Up Your Digital Skills for Your Career with an alumni panel.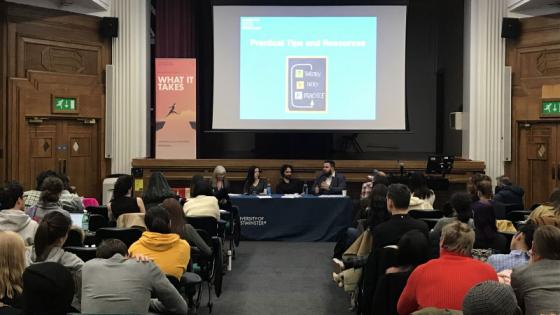 The panel discussed their own career journeys, including how they acquired digital skills and they apply them on a day-to-day basis. They also talked about what digital skills and tools are most in-demand and which will aid in future-proofing and planning a career. 
The first panellist was Alina Gehl, Marketing Manager for Facebook and 2012 graduate of the Communication MA course. Gehl has over nine years of experience across UK, global and regional accounts with specialist skills in account management, digital strategy, media buying and digital planning. She has worked at a number of top media industries and blue-chip brands, including Procter & Gamble, Shell, Mars, Coca-Cola, Uber, Dell, EY and Sony. 
Panagiotis (Pazbi) Zavatzki, Director of Some Talented People Ltd and 2012 graduate of the Computer Games Development BSc Honours course, was the second panellist. He is a multi-disciplinary entrepreneur who enjoys developing people's potential, and in 2014 he founded Some Talented People Ltd to help small and medium-sized enterprises to expand their online presence. 
The third and final panellist was Siavush Shahrizad, Co-Founder of Poor Alexander and 2012 graduate of the Applied Market and Social Research MSc. His company is a start-up that helps job applicants do well in interviews, offering a website that allows people to practice interview questions, record themselves and read answer guides based on science. He also launched his own research consultancy, RA Consulting, seven years ago, which helps businesses make the right decisions from launching new products, improving current ones and finding out what customers want. 
The talk was in partnership with the Creative Enterprise Centre (CEC), who run an award-winning programme of workshops and events to aid Westminster students, graduates and alumni to develop transferable enterprise and employability skills and to gain practical and first-hand industry insights and networks. 
Shahrizad said during the talk: "Digital skills - they connect a little bit with the non-digital skills, you have to have both. The other reason why it's so important to be a lifelong learner is that employers don't like people without initiative. Employers don't like helpless people and the way that you can actually demonstrate that you're not one of these people is by regularly learning things and you can regularly learn things online. It fits into your schedule, it's convenient."   
The next What It Takes panel will be 'What It Takes to be a Successful Leader' on 26 February.