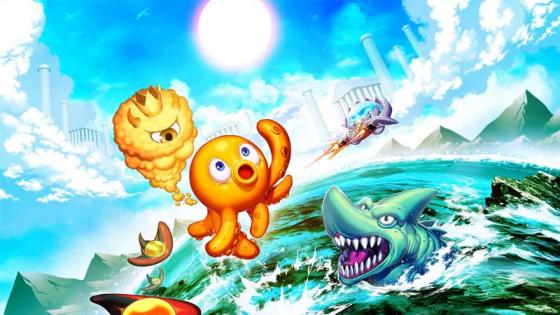 Calabro is a finalist in the Student Game Award category, which rewards students who have developed a game project within the last year that demonstrates strong talent and skill. His game, Takotan - 星のタコ, was nominated by numerous lecturers and students. 
Takotan - 星のタコ is an arcade 'Shoot 'em up' inspired by the game Parodius. He started creating it in his first year at university as a small project for one of the course modules that required students to form groups and design and create a game. Calabro continued to work on the game throughout the summer where he got it tested and it was eventually released and published to PC on 15 May 2019. The game trailer can be found on YouTube. 
At the beginning of this year, Calabro found a publisher that helped him to translate the game into eight different languages and port it to the PS4, PS Vita, Xbox One, and Nintendo Switch. This month, the game was released on consoles worldwide. 
The Grads in Games Awards are nomination-based and call attention to the individuals, companies, and institutions that are advancing the links between the industry and academia. This year, there were over 250 nominations across the board, highlighting more than ever some of the incredible work that is being created.
Speaking about his achievement as a finalist, Calabro said: "I'm really excited that my game was able to make it to the finals, and I'm really grateful to all the students and lecturers who came together to nominate my game for this award. It's with their help that I was able to make it this far, so I'd like to thank them and the university for all of their support." 
Markos Mentzelopoulos, course leader of Computer Games Development BSc Honours, said: "The Takotan game is a development that started as part of the Games Group Project, a core module for the BSc Computer Games Development – year 1. Group projects simulate the working environment behind small indie game studios. The module covers the entire game production lifecycle and teaches students valuable skills towards employability. Publishable projects like Takotan bring big AAA game companies to our doorstep. This game was Joseph's entry for Splash Damage."
Professor Alexandra Hughes, Deputy Vice–Chancellor for Global Engagement and Employability at the University of Westminster, said: "The University of Westminster has a vibrant and thriving community of alumni, in the UK and across the globe. Our alumni make an impact on society and their communities in all sorts of ways, in many countries. We are immensely proud of the achievements of all of our alumni, and I'm delighted to congratulate Joseph Calabro on behalf of the University on his success in the Grads in Games Awards 2020."
The winners will be revealed on 15 September. 
Learn about Computer Science and Engineering courses offered at the University of Westminster.