Have you been thinking about starting 2021 by studying a new language or continuing with a language you already know, why not join one of the University's evening language classes this January?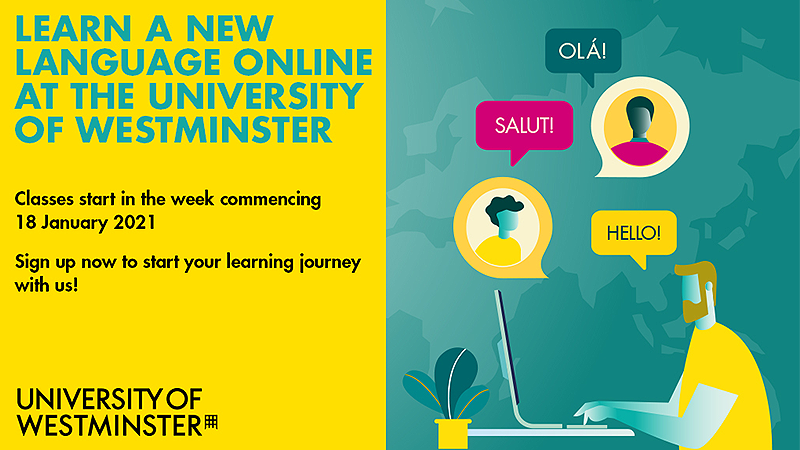 Why join us?
Great student discounts on any of our beginner courses

More than 20 languages to choose from at various levels

ELP classes are small (normally between 5 to 10 highly motivated students/colleagues)

Classes will be online for the remainder of the academic year.
When is booking open?

Our January bookings are open until 10 January 2021.

When are classes commencing?

Online classes will commence the week, starting 18 January 2021.

Evening language programme details
 
Standard fee

£615 for the year (3 terms) £280 per term

Discount rates for Students, Colleagues and Alumni

£177 per term for any beginner course form to redeem discount: Evening Language courses – Colleagues, alumni and students' registration form

Tuition hours per term

20 hours' tuition over 10 weeks

Teaching schedule

Teaching semesters for beginner courses starting in January 2021:

Winter term: 18 January - 26 March
Spring term: 12 April – 28 June
Summer term: 21 June – 23 July
(Two classes per week).

Classes start at either 6pm or 6.30pm depending on the language.

Languages offered

We offer the following languages at the grades specified below.

The asterisks indicate languages with beginner courses starting in January 2021 for which the special discounted rate applies.

You may also choose to join the second part of a course that started in September.

Full details of the course content per part can be accessed via the links below. 
Arabic (Grades 1-5)* , 
Bulgarian (Grade 1), 
Cantonese (Grades 1-2), 
Chinese (Mandarin) (1-4)* , 
Croatian/Serbian (Grades 1-3), 
Danish (Grades 1-3)*, 
Dutch (Grades 1-5)*, 
Farsi (Grades 1-5), 
French (Grades 1-4)*, 
German (Grades 1-4)*, 
Hungarian (Grades 1-6), 
Italian (Grades 1-3)*, 
Japanese (Grade 1)*, 
Norwegian (Grades 1-3)*, 
Portuguese (Grades 1-2)*, 
Romanian (Grades 1-2, 
Russian (Grades 1-3)*, 
Spanish (Grades 1-6)*, 
Swedish (Grades 1-6)*, 
Turkish (Grades 1-2).

Further information

If you have any questions, do not hesitate to contact us at [email protected]
Visit our webpages at https://www.westminster.ac.uk/languages-short-courses for more information about our Languages Courses.