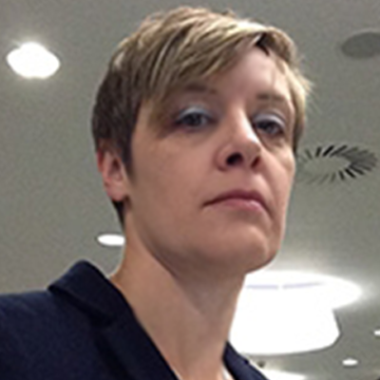 PR manager | DFDS
Politics BA (Hons) - 2002
Studying in London gave me easy access to resources and opportunities that wouldn't have been so readily available elsewhere.
What are you doing now?
I am currently working as PR Manager for one of Europe's largest shipping and logistics companies, DFDS. My daily role involves media relations, internal communications, reputation management, managing social media and advising senior executives on media issues.
I am also running my own business on a part-time basis, providing freelance public relations support to small businesses in Kent.
What did you find most valuable about your course at Westminster? How did the skills you learnt during your degree help you to shape your career?
I studied politics at Westminster because I had an existing interest in current affairs. The course deepened my interest and gave me a broader perspective on world politics, including an option to learn more about the role of the media in shaping political discourse, and brought me into contact with a diverse group of fellow students. All of this has helped me to develop my career, but I think the most valuable thing has been the open-mindedness that studying at a multi-cultural and multi-disciplinary university encouraged.
Why would you recommend Westminster as a place to study?
My tutors were incredible. They encouraged me to expand my interests beyond my core subject and challenged me to push myself beyond my own expectations of what I could achieve. The option to study different modules across another discipline stirred an interest in history and six years ago I achieved a PhD in Modern History at another UK university.
What was the best thing about being a student in London?
Studying in London gave me easy access to resources and opportunities that wouldn't have been so readily available elsewhere. As a politics student, it was fantastic to be able to witness the machinations of our government first hand in Westminster and it allowed me to get first-hand experience of working in an MP's office during my spare time.
What extra-curricular activities did you participate in that enhanced your time at the University?
I stayed in halls of residence with a group of international students – in fact, I was the only Brit on my floor of the halls at Marylebone campus. This was a great experience, as it meant I could learn about the experiences of people from across the world and through the social life available, build friendships that reached around the globe.
What advice would you give to someone thinking of pursuing a similar career?
While theory is important to public relations practice, nothing beats experience and a keen interest in current affairs and the media is obviously vital. It can be a tough industry to get into and there's lots of competition for the top jobs, especially at PR agencies based in London. Don't be afraid to look at other opportunities to use your skills in industries that you maybe wouldn't have considered at first. I never intended to work in the ferry industry, but it kick-started my career and gave me a grounding in PR that has led me on to a variety of different industries since, including construction, higher education and the railway.
Don't forget to enjoy it! My early years in PR were some of the best of my career. Everything was new and we had a lot of fun coming up with ideas for PR stunts and campaigns.
Is there anything else you would like to tell us?
After completing my studies at Westminster I returned to higher education and now have a PhD in Modern History. I didn't start the course immediately after my undergraduate degree for financial reasons, but started my post-graduate studies four years later. The idea of returning to study after a gap was a bit daunting, but it's one of the most rewarding things I've ever done. I'd highly recommend it to other students.