Student and graduate finalists competed with live pitches at Westminster's Big Idea Competition final and were awarded up to £5,000 in funding for their business ideas, during the prize giving ceremony.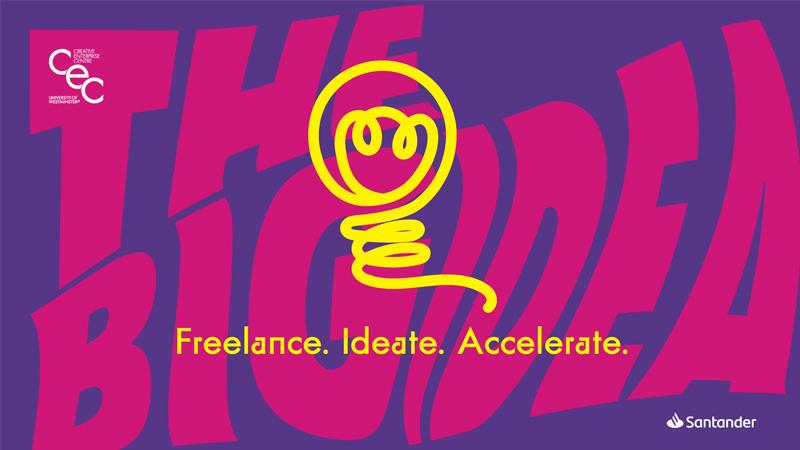 The Big Idea Competition is supported by Santander Universities UK and organised by the University's Creative Enterprise Centre (CEC). The competition encourages students and graduates to advance their entrepreneurial skills, by developing and commercialising their ideas, or growing their business. 
The grand final took place online on 25 May and showcased entrepreneurial talent across three categories: freelance, ideation and acceleration. Student and graduate finalists delivered pitches, answered questions and presented expo booths to a panel of judges and live audience. Expo booths allowed attendees to virtually visit the students and graduates 'booth' which included information on them, showed the pitch videos again and enabled interaction. 
In the week before the event, all finalists competed in an additional challenge, 'The Viral Idea.' This offered the opportunity to win an additional £500 prize within each category, for generating the most votes from the general public. All other prizes were judged and awarded by a panel of industry experts, university staff and our supporters at Santander. 
Within the freelance category, Raya Gunova on the Entrepreneurship Innovation and Enterprise Development MSc won first place with £2,500 worth of funding for her business Colours By Heaven. Evie Warren, who graduated from the Visual Communication BA Honours course, came in second place with £1,500 towards her brand Evie Warren Illustration. Contemporary Media Practice BA student Adél Szegedi came in third place with £1,000 towards her freelance practice. Graduate David Coyle of Decoy Audio and student Ana Quiroga, both from the Audio Production MA course also made it to the final and were awarded £250 in funding toward their business ideas. Additionally, Ana Quiroga won the £500 prize for the Viral Idea, by generating the most votes from the public. 
Within the ideation category, student Emily Glynn and graduate Mansel Haynes from the Architecture Postgraduate Diploma Professional Practice (RIBA Part III) won the first place prize of £2,500 for their platform Archisource. Accounting and Business Management BA graduate John Rau came in second place with £1,500 funding towards his sustainable product idea, Flushbud. Andres Figar on the Sustainability Management and Innovation MSc came in third place, winning £1,000 towards his rental business Humbol. Andres also won a further £500 for the Viral Idea by generating the most public votes within the ideation category. Business Management (Marketing) BA student Nick Tanev and graduate from the Interactive Media Practice MA Alvaro Caiza were each awarded £250 in funding for their ideas Table Design and OnBoard.
For the acceleration category, graduate from the Electronics with Robotics and Control Systems MSc Dewimaya Puspitasari won first prize and £5,000 with her business Sense Gift. Francesco Pignatti, student on the Sport and Exercise Nutrition MSc took second place and £3,000 for his business Iron Manager. The third place prize of £1,000 went to Fashion Design BA Honours student Melissa Eakin for her fashion brand Issa Eakin, who also won an additional £500 for generating the most votes in the Viral Idea. Graduate from the same course, Lidiia Pyshna won £250 towards her fashion brand Mohen, as did Business Management (Entrepreneurship) BA Honours graduate Daniel Volovei for his business Nectar Hive. 
Talking about the competition, Judging Panel Chair Professor Malcolm Kirkup said: "This year's competition was an inspirational event, a real showcase for the diverse talent at Westminster. There was a great response from our online audience, including our Vice Chancellor Dr Peter Bonfield, to a fantastic set of well thought through ideas, brilliantly executed. And it was particularly appropriate in 2021, that the winning entrepreneurs showed such a strong sense of social purpose and a passion for their businesses."