Shibuka, an NGO established in Rwanda with the support of the Quintin Hogg Trust and Higher Education Innovation Fund funding from University of Westminster, recently ran its fourth online Kwa Muganga (Business Clinic) on 27 May to guide young Rwandan entrepreneurs to focus their existing businesses during COVID-19 and beyond.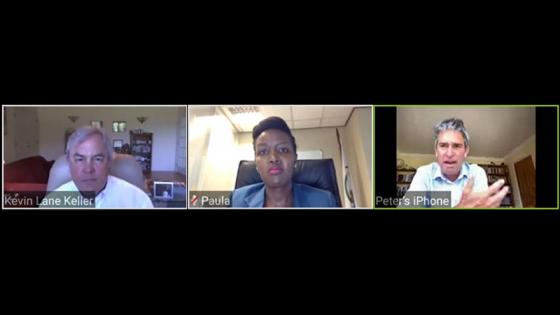 Shibuka's Deborah Rose,  who is also a Visiting Lecturer in Marketing and Entrepreneurship at the University, along with Darrell Kofkin, Westminster Senior Lecturer in Social Enterprise and Entrepreneurship, who each co-founded Shibuka with University colleagues Dr Vincent Rich and Dr Joy Tweed along with other colleagues from UK and Rwanda, act as coaches for each Kwa Muganga. This inspiring interaction is also being underpinned by a research study to assess and evaluate the Kwa Muganga itself led by Westminster's Dr Nattida Srisaracam and Professor Terry Lamb.
Each week Rose and Kofkin guide the collaborative Kwa Muganga, while they are also joined by global business experts to help inspire the young Rwandan entrepreneurs to think of new ways of taking their businesses forward.  
Each of the global experts has been more than happy to contribute their time to help energise their businesses, giving practical tips on how they can develop new business models to help them continue to contribute to Rwanda's National Strategy for Transformation and even more pressing, Rwanda's Economic Recovery Plan to mitigate against the impacts of the COVID-19 outbreak. 
Three global experts joined the Kwa Muganga on 27 May including University of Westminster Vice-Chancellor Dr Peter Bonfield. Joining Dr Bonfield was world-leading marketing and brand management expert Professor Kevin Lane Keller, Senior Associate Dean for Innovation and Growth at Tuck Business School in the US. Both gave the entrepreneurs advice on how to build a sustainable brand for both their business and themselves.
Honourable Minister Paula Ingabire, the Government of Rwanda's Minister of Information Communications and Technology and Innovation also joined the session. An inspiration to many young Rwandans, Ingabire reminded the entrepreneurs of their role in rebuilding the Rwandan economy, inviting them to leave their comfort zones, through taking risks, and by identifying which part of the status quo needed to be reformed and disrupted. Her positive sentiment was that she valued them as they set about dissolving outdated business norms and to move forward with their highest values to fuel the economy. 
In other sessions, Rose and Kofkin have also been joined by Westminster's Dr Spinder Dhaliwal, Reader in Entrepreneurship and author of The Millennial Millionaire, Westminster's Dr Vincent Rich, Head of School of Organisations, Economy and Society, as well as Dr Svend Hollensen, Associate Professor of Global Marketing at the University of Southern Denmark, and Professor Dr Johann Fueller, Chair of Innovation and Entrepreneurship at the University of Innsbruck.
Shibuka has crafted the Kwa Muganga breakthrough opportunity for entrepreneurs in collaboration with the Rwanda Chamber of Young Entrepreneurs (CYE). The CYE entrepreneurs attending the Kwa Muganga include Ishimwe Christelle of fashion brand Nish, Segond Fidens Iragena from grocery retailer Park & Pick, Bayingana Bonfils from Africa Educational Toys, Wilson Habimana from Wilson Tours and Travel, Indekwe David from Ihuru Clearing Agency and Ruzibuka Priscilla from Ki-pepeo Kids Clothing. 
Ishimwe Christelle said the lockdown caused some panic and frustration as it was all so sudden and unexpected. "But", she said, "the programme has showed me gaps in the business skills I so desperately needed. I am acquiring the knowledge I need to turn me into a business woman I can be proud of.  I now feel more confident that I can confront the pandemic with success and help me build step by step a stronger community and a better future for Rwanda."
Given around 10 per cent of Rwanda's GDP comes from tourism, the sessions were even more pertinent for Wilson Habimana. His tourism business has been hit particularly hard during the pandemic as overseas tourism has dried up and there is an urgent need to focus on domestic tourism. He says: "I was getting prepared for the high season, so I felt very bad. I did not really know how to restart my business, so I jumped at the opportunity to participate in the programme. I am so pleased that I did. I have developed a number of new business skills and am so much more confident about the future because I am able to put into practice the knowledge and advice I have gained."
Speaking about the Kwa Muganga Deborah Rose said: "We are delighted to have collaborated with CYE on this first-of-a-kind online programme, and to thank our young entrepreneurs who have been so willing to be their nation's entrepreneurial heroes. At times such as these, it is important to come together, to work as one, concentrating combined efforts with a focus on the common goal. The 'inner circle' of entrepreneurs have committed to the programme wholeheartedly. 
"We are thankful that we are able to guide them further as they rewire and expand their business and mindset for the 'new normal' of the Rwandan economy and society in which they are operating. We are also looking forward to sharing with our Westminster colleagues the outcomes of our research study, particularly given Westminster's need to rewire courses where the online element of its blended courses becomes even more paramount."
For more information please contact Darrell Kofkin at [email protected]. You can follow Shibuka on Twitter @Shibuka2020.  
Listen to the 4th Kwa Muganga session on Soundcloud.