On 11 November, Westminster Business School hosted a delegation from a range of Chinese partner institutions, including Wuhan University of Technology, Sichuan University, China University of Petroleum (East China), Fujian Normal University and Beijing Yinhong.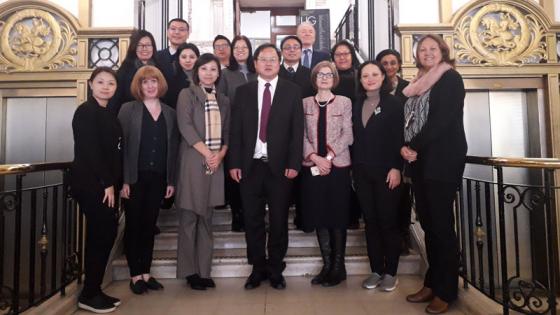 The event was hosted by Dr Katalin Illes, Associate Head of College (External Relations) from Westminster Business School.
The visit provided an opportunity to reconnect with old friends and meet new colleagues. Discussions centred on how to develop the two parties' joint working into broad-based, long-lasting partnerships. The delegation agreed to build on activities such as the training delivered to teachers working across China in July 2019 by Dr Vincent Rich, Head of the School of Organisations, Economy and Society at the University of Westminster. The University's Chinese partners are also keen to welcome Westminster students to their campuses for short-term study visits.
Speaking about the event, Dr Karen Jackson, Assistant Head of the School of Organisations, Economy and Society, said: "It was lovely to welcome the delegation to London. Over the last few weeks I visited Sichuan University, Fujian Normal University and Beijing Yinhong so it was really nice to have the opportunity to host them in return. I look forward to seeing everyone again soon."
The Westminster team extended a special thanks to their interpreter, Jianli Du, from the University's Translation and Interpreting MA course, as well as for the excellent organisational support provided by Maggie Brown, International Recruitment and Partnerships Coordinator,  and Zuzana Heincova, International Partnerships Officer.
Learn more about the University of Westminster's Global Partner Network.