The University's alumni team has hosted another successful talk as part of their 'What It Takes' series for students.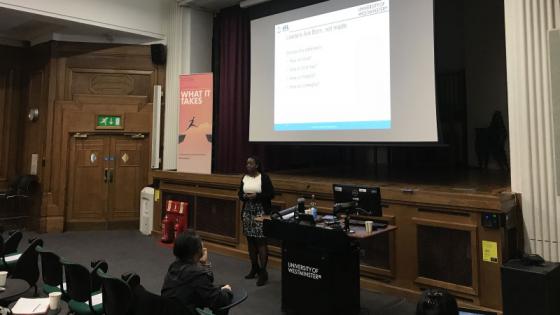 Speaking at the talk was Lisa Leonce, international career coach, consultant, trainer, speaker and author, who shared with attendees how to be an effective leader or remain a progressive one. Leonce graduated from the University's MBA programme in 2008.
Leonce's business e-fiL-Coaching empowers people in their various leadership roles worldwide, enabling individuals and their businesses to develop more effectively. She especially works with those who are subjected to prejudicial treatment such as ethnical or ageism challenges, people with disabilities and ex-offenders. 
Leonce has successfully delivered programmes nationally and internationally within organisational development, transformation, change management, IT and strategic planning. She delivers talks, training and coaching sessions, within sectors such as IT, retail, banking, local government, education, the NHS, higher education, and religious, voluntary and charity organisations. Leonce is passionate about working with leaders who have integrity, impact and influence. 
During the talk, Leonce discussed her leadership journey, shared the lessons she's learnt along the way and provided practical tips for students and recent graduates. 
The event was followed by a Q&A and refreshments with networking. The attendees were also given a special one-off offer of buying her book 'Successful Leadership Traits: An A to Z guide' at a discounted price. 
Leonce said during the talk: "Remember: whatever role you're in, do your best. When I was a shop assistant, I did my best. When I was a Senior Project Manager, Programme Manager, Director… You do your best. Stop comparing yourselves to others. Be yourself. That's another successful leadership trait. 
"We're all unique, we're all different and we all have different gifts and talents and abilities and recognising your own and appreciating your own, your own history and circumstances that have brought you to where you are now, will actually keep you going forward. Be yourself. Stay strong in character and adaptable in your thinking and actions. That's the best way to be resilient."
The next talk in the 'What It Takes' series is 'What It Takes to Get In and Get On' on 10 March. 
Register your place on the next 'What It Takes' talk.