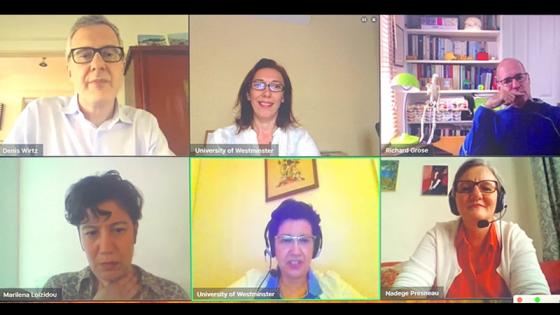 The international event brought together cancer research colleagues, early career PhD students and international leaders across the globe to hear about the latest cancer research from distinguished scientists. Due to the exceptional circumstances, this year's symposium was organised virtually, allowing for high levels of attendance globally.
The symposium, which focused on the 'Current Challenges of Cancer Metastasis', began with a meeting discussing the 'Early Changes and Diagnosis of Cancer Metastasis'. It started with opening remarks from Westminster's Vice Chancellor and President Dr Peter Bonfield, followed by a welcome by group leader Dr Pinar Uysal-Onganer who presented the current research projects of the Cancer Research Group members.
The first session included talks from Marilena Loizidou from University College London, Richard Grose and Tanja Crnogorac-Jurcevic from the Bart's Cancer Centre at Queen Mary University of London and Denis Wirtz Johns Hopkins University, who all shared their latest cancer research data with almost 250 attendees from across the globe. The second session on 30 June focused on 'New Targeted Therapies and Metastasis', which included Dominique Bonnet from The Francis Crick Institute, Sergio Quezada from University College London Cancer Institute, Esta Sterneck from the National Cancer Institute Frederick and David Kaplan from SickKids Hospital Toronto.
Professor Luis Parada, Director of the Brain Tumour Centre at the Memorial Sloan Kettering Cancer Centre also joined as the plenary session speaker, and shared his latest research on stem cell biology and the mechanisms of glioma resistance.
Talking about the event, Dr Uysal-Onganer said: "It was an honour and pleasure to have such distinguished speakers for this inaugural conference. As a cancer research group, we aim to maintain a high research standard and continue to maintain key and international collaborations."
Find out more about the University of Westminster's Cancer Research Group.