On Tuesday 16 February, ten academics and colleagues at the University of Westminster took part in a workshop titled 'Queer Studies and Queer Histories at Westminster' to mark LGBTQ+ History Month.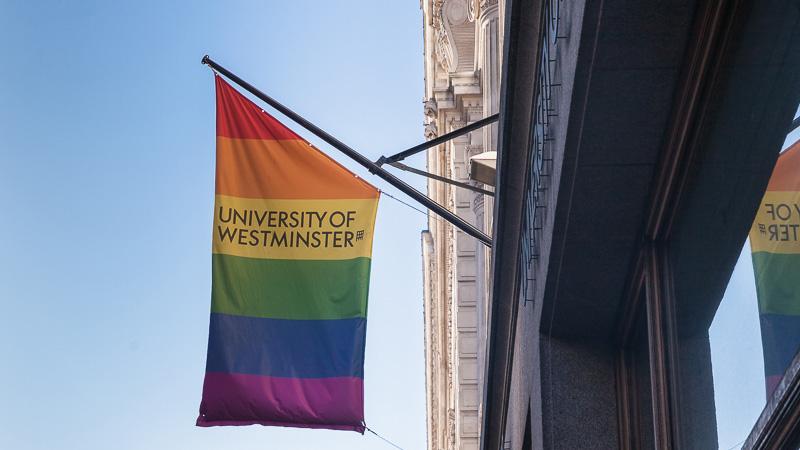 Drawing in a global audience, the workshop showcased the rich diversity of research into queer studies and histories at Westminster, where ten academics and colleagues explained how their work casts light on queer studies, histories, experiences and lives. Throughout the event, a range of topics were explored, from queer spaces and queer theatre to non-binary identities and body image.
The workshop heard an array of important discussions, including about LGBT+ histories and historians from the event organiser Professor Pippa Catterall, queer theory and school sexuality education from Senior Lecturer in Sociology Dr Naomi Rudoe, and lived experiences of queer-identifying academics from Graduate Digital Learning Assistant Jayne Flowers.
Talking about the event, Pippa Catterall, Professor of History and Policy, said: "We wanted to showcase how much significant research in this field is taking place at Westminster, much of this pushing at the boundaries of research and extending it into new, hitherto under-explored areas. This is not just by opening up analyses of the lived experience of often overlooked groups such as intersex or non-binary people, but also by asking big questions about how economic structures and states either exclude or appropriate queerness for their own ends. 
"Additionally, the presentations at the workshop powerfully questioned existing assumptions about the lives of mistresses and bisexual people, opened out new lines of enquiry into the history of queer literature and illuminated how this research can and should impact policy in areas ranging from education to planning. I'm delighted that the workshop demonstrated how much important, ground-breaking work is taking place in this field at Westminster."
Find out more about the University of Westminster's commitments to equality and diversity.