Jake Hawkey, who studied on the Fine Art Mixed Media BA course at the University of Westminster, has published Breeze Block with the new English publisher Lumpen, as part of their new chapbook series. He hosted a virtual event to mark the book's launch on 26 November.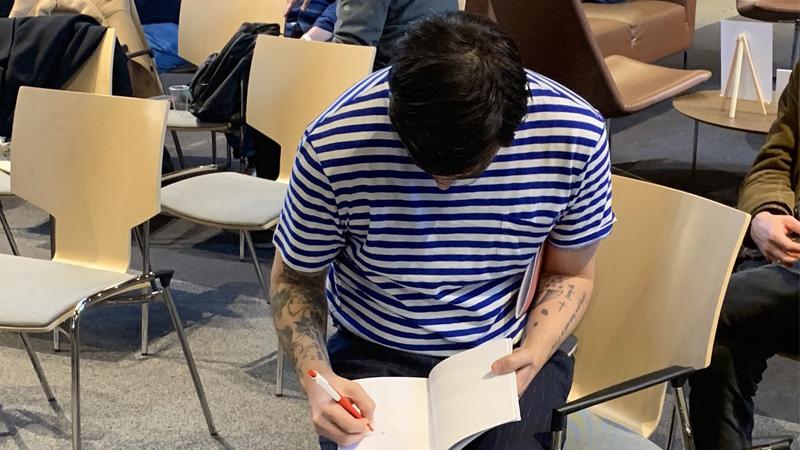 The chapbook of poems, entitled Breeze Block, includes a wide range of poems covering a variety of subjects, including London class dynamics, winning goldfish at the circus, and iridescent romances. The collection asks its reader to engage with its electrifying juxtapositions of a multitude of realities, where Hawkey draws inspiration from the likes of Rembrandt and Rothko. 
At the launch event, Hawkey gave readings of some of the poems in the publication, and was joined by Roy McFarlane, a former poet laureate of Birmingham who has written extensively about class, race and growing up as a Black man in the midlands. They discussed divinity, collage as a technique in poetry, and writing flawed characters with justice. 
Jake Hawkey studied on the Fine Art Mixed Media BA course at the University of Westminster and was selected for Poetry Ireland Introductions in 2020. He is currently a poetry PhD candidate at Queen's University Belfast.
Talking about his new work, Jake Hawkey said: "I have always thought of myself as an artist, not really a writer, and landed on writing through experimentation with multiple medias, beginning at Westminster. While studying, I made paintings, sculpture, film and video, but words kept 'coming through'. I definitely ruined a few half-decent paintings by writing words over them. Eventually, I took notice and decided to see what I could make with a reliance on words alone. I produced my first zines while at Westminster, which gave me the confidence to start reading and writing poetry with a more serious engagement and entanglement. 
"Breeze Block takes my childhood in a working-class area of London as its starting point and moves towards more tenuous and fragile experiments with the construction of a poem; there's a particular focus on the jump-cut collage and written imagery. This chapbook is largely the result of my work since Westminster and during my Poetry MA at Queen's."
Find out about Art, Design and Visual Cultures courses at the University of Westminster.
Watch the full launch event on Vimeo.