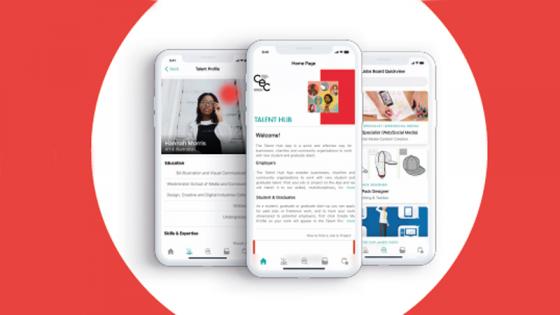 The app can be downloaded and used by students and recent graduates to find, connect, and work with employers on paid opportunities. They can showcase their work on their profile and collaborate with other students on projects as well as advertise start-ups to possible partners and investors. Users can also develop their skills and insights by booking a place on one of the masterclasses. 
The app aims to grow employer engagement and make it easier for businesses to connect and work with student and graduate talent. Through a much-simplified process, employers can add and advertise their vacancies or directly request to work with a student or student-owned start-up. As well as this, the app enables improved networking and interdisciplinary collaborative working between students across the University. 
The CEC is an enterprise and entrepreneurship hub that supports all students and recent graduates at the University of Westminster, helping them to develop transferable and industry-relevant skills. They provide a dynamic, award-winning programme of events, workshops, competitions and one-to-one guidance. 
Sheila Birungi, manager of the CEC, said: "The CEC Team is pleased to launch the first phase of the Westminster Talent Hub. The app is designed to showcase the diversity of talent and potential offered by the University's students and graduates. I am most excited that through the app students can collaborate with other students across the University more easily and in a structured way.
"Historically, it has always been hard to show employers or industry partners the breadth of what our students can do. The Westminster Talent Hub makes this process easier as employers can see it for themselves and even more, the app makes it much easier for employers to be able to advertise jobs and work with students. We hope to grow and strengthen the capability and reach of the app over the next few months as we capture feedback on how we can make it work better for students and employers."
Learn more about the Creative Enterprise Centre at the University of Westminster.