Last month, the Contemporary China Centre hosted an online roundtable event entitled 'Racism and Orientalism: A Roundtable on Racialised Discourse on COVID-19 with four panellists to share their insights and discussions.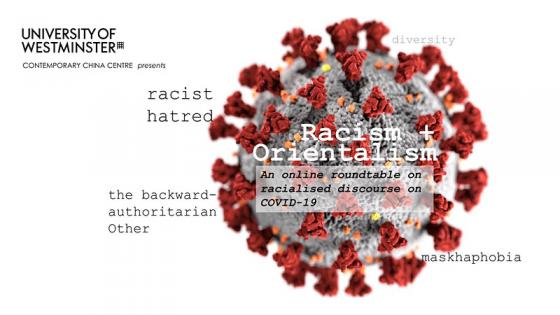 The online roundtable event sought to investigate and discuss reports of racism during the COVID-19 pandemic. In response to these issues occurring across the globe, Westminster's Contemporary China Centre invited panellists from various expert areas on the subject to join the online roundtable and share their experiences.
Panellists included Dr Shzr Ee Tan, Senior Lecturer and Ethnomusicologist at Royal Holloway, University of London, Dr Diana Yeh, Senior Lecturer in Sociology, Culture and the Creative industries at City, University of London, University of Oxford PhD student Flair Donglai Shi and British-Asian freelance journalist Sam Phan.
The event began with an introductory welcome, followed by a ten-minute speech from each of the four panellists in which they introduced themselves and their expertise. This segment was rounded off with a discussion amongst the panellists and was followed by a Q&A with questions asked by the audience. 
During the discussion, panellists shared their personal experiences and addressed a variety of topics, including the underestimation of the pandemic, cultural differences, the use of masks and language used around COVID-19.
Talking about the event, attendee Dr Chng Nai Rui from the University of Glasgow said: "It was a great panel and discussion because I felt that there was a strong urge for something to be done. I like what the moderator Dr Tan said about how to begin the process of learning how to decolonise."
Another attendee Dr Renata Brandao from Kings College London added: "The roundtable on racialised discourse on COVID-19 was inspirational. It presented an informative and engaging insight into the research behind racialised discourses while brilliantly calling for transnational and intersectional alliances in these troubling times.
"It was lovely to see stories being shared, as well as critical inquires. As Dr Shzr Ee Tan touched on, borders will continue to be non-fluid, and consequently these types of discussions are all the more important."