On Thursday 31 October 18 final year Psychology BSc Honours students visited Broadmoor Hospital within West London NHS Trust, for a day visit to learn about patient, life, treatments and clinical psychology in an out-of-classroom environment.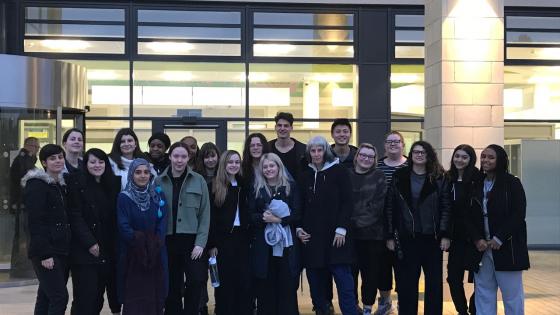 The visit, coordinated by academics Chantal Gautier and Cassie Hazell, Psychology Lecturers, and Dr Claire Wilson from West London NHS Trust, offered students the opportunity to talk face-to-face with staff and two patients about their experience of life in Broadmoor Hospital.
Since 2016, as part of a 'challenging stigma' innovation, Broadmoor Hospital has organised for University of Westminster final year Psychology students to access parts of the hospital, providing them with 'non-textbook' exposure and a glimpse of real life clinical situations. The students were given a tour of the hospital's facilities, including therapy rooms, a sports centre, crafts area and chapel, and the opportunity to speak to the range of multidisciplinary staff who are involved in the delivery of care in the hospital. 
Sharing her thoughts after the visit, Westminster Psychology student Megan Sheppard, said: "Thank you both for the opportunity to go to Broadmoor yesterday. The entire day was really eye-opening. The staff were incredibly welcoming and accommodating and the patients were so open and honest. The trip changed my perspective entirely as it really humanised the patients and I have so much more empathy toward them than I did before. Overall, it was an incredible experience and I am really grateful." 
Dr James Tapp, Research Psychologist at Broadmoor Hospital, said: "It is always a pleasure to welcome the students from the University of Westminster each year to give them a real insight into psychology in action. It is a unique opportunity for them to be able to understand the role of clinical services in one of the three high secure hospitals within the UK."
Broadmoor Hospital was founded in 1863 in the village of Crowthorne, Berkshire. Contrary to popular belief, Broadmoor is not a prison, despite having housed several patients well-known for their offending. Rather, it is considered the most well-known high-security psychiatric hospital worldwide. The patients are diagnosed as suffering from severe mental illnesses including psychoses and personality disorders.
Find out more about the Psychology courses offered by the University of Westminster.