World Mental Health Day is commemorated annually to raise awareness within the global community about mental health and wellbeing.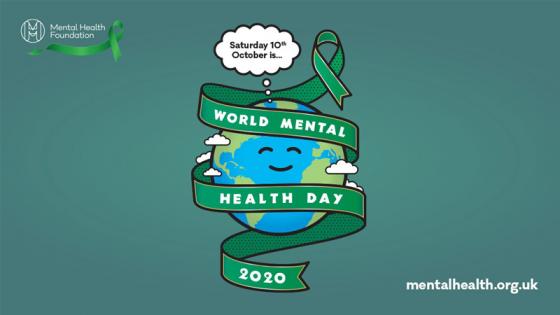 World Mental Health Day is commemorated annually to raise awareness within the global community about mental health and wellbeing. We now live in unprecedented times where the daily lives of people across the world have changed considerably due to COVID-19 pandemic. Therefore, it is even more important we come together as a community and show compassion to all.
This year the event falls on Saturday 10 October. However, we wish to continue the awareness throughout the month. Showcasing the importance of this topic for our colleagues and students.
The University, in collaboration with the Students' Union, are running online events throughout the month. Please see below events and links to register:
Mindfulness - 'Everyday Awareness' Taster Session
Saturday 10 October, 11:00 - 11:45 
Everyday Awareness is a practice of committing to a more mindful life. It can enhance the quality of one's relation between the inner world (thoughts, dreams, feelings and associations) and the outer world of external reality, which also includes the expanding virtual realm. This session includes a confidential discussion, guided meditation with time in silence, any topic for specific focus, and Q&A.
Intro to the Feeling Good App: The Positive Mental Training Programme 
Tuesday 13 October, 14:00 – 13:00 
A chance to learn about the new positive mental training programme that is now available to all students via the Feeling Good app. The programme uses evidence-based techniques of guided relaxation, mindfulness, self-compassion and positive visualisation. Research shows a key process in recovery from stress or distress is ability to see yourself recovering. Listening regularly to the Feeling Good App helps develop relaxation skills for mind and body, and increases positive thinking, confidence and self-belief.
Look After Your Mate Training
Every Wednesday in October, 14:00 - 16.30
This 2.5-hour, online workshop will equip you with the knowledge and confidence to effectively support your own and your mates' mental health. It includes practical tips, spotting warning signs, setting boundaries, and resources and services. You'll also gain desirable skills to put on your CV, such as communication, listening and motivating skills. If you're unable to attend the dates below, you can register your interest for future sessions here.
Managing Wellbeing During the Pandemic 
Wednesday 14 October, 13:00 – 14:00
Managing wellbeing during this time is more important than ever. This session will provide advice guidance and tips on how to manage key areas of wellbeing including keeping active, mental health, sleep hygiene and keeping active.
 
Journaling for Self-Expression 
Wednesday 21 October, 14:30 – 15:30 
This session will use journaling for exploring creativity and self-reflection with prompts and guided exercises. This session is suitable for all levels; bring your notepads, laptops and imaginations. No writing experience necessary. There will be opportunities to share but it will not be compulsory.
Further Resources
UoW Wellbeing Resources & UWSU Wellbeing Resources
There are a variety of self-help resources available on a range of topics that may support you with your health and wellbeing, which are updated regularly. 
Feeling Good App
We are providing free access to a positive mental wellbeing app that will accompany you through your student journey. The app is designed to enhance mental clarity and focus to reach optimal performance.  
Student Space
Need a little help to cope with all the Covid-19 changes? Student Space helps you to find the support that you need during the Coronavirus pandemic with information, tools and helpful hints.