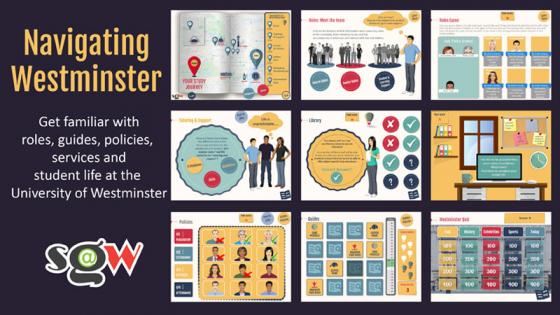 Navigating Westminster demonstrates the student journey from the start of their studies to graduation. The interactive platform displays a map of London with the University's campuses pinpointed across the city, which students can then navigate with a hot air balloon to learn about various aspects of university life through a selection of minigames.
The interactive virtual experience begins with a 'Roles Game', which identifies the key course roles and teams within the University, indicating how each role relates to students and gives insight into who to contact and how each role can help them during their time at university. Students can also learn about tutoring and support in three role-play scenarios to give them greater awareness into what support is available for some of the most common areas, including IT problems, disability support and learning new skills.
The 'Guides & Policies' section of the game involves a memory-based activity in which students will gain information about core modules, optional modules, pass marks and further materials that are essential for their studies. The policies game also enables students to learn more about plagiarism, deadline extensions, offences and the appreciate the importance of attendance.
Navigating Westminster gives students important information for what happens when things go wrong and understanding mitigating circumstances. In this minigame, students will be taken through an escape room scenario, through which they will understand how to overcome given problems when unforeseen conditions occur and where they can go for support. The interactive experience closes with a Westminster quiz, which is separated into five categories of facts, history, celebrities, sports and the University today. 
Scripts, graphics, design, interaction design, animation and programming for Navigating Westminster were completed by the Serious Game at Westminster team, comprised of Dr Daphne Economou, Dr Frands Pedersen and Dr Vassiliki Bouki. Advice for the game's topics was also provided by Xanthy Kallis and Dr Amarachukwu Anyogu. 
The game can be played through any platform or device. Within the first week of its release the game has been played by approximately 1500 users from 43 countries in the world, with each user playing approximately 5 minutes. 
Talking about the launch of Navigating Westminster, Dr Frands Pedersen said: "We created Navigating Westminster to introduce our new students to the University of Westminster, including its amazing history, its core mission and central structures and policies, in a fun and engaging manner. Due to being unable to physically attend university, students will experience the University through the game and understand what makes it special."
Vassiliki Bouki said: "Navigating Westminster is an engaging, fun and educational game that introduces new and continuing students to the University structures, policies, guides and history. It is a game that combines pedagogical principles, new technologies, design standards and interesting content which can be played individually or collaboratively. It is a way to keep working together while distancing as an answer to COVID-19 restrictions, but also as a new way to communicate with students."
Dr Daphne Economou added: "The Navigating Westminster game has been designed to bring together years of experience in pedagogical and serious games design research to create an educational resource to engage students in discovering valuable information about their educational journey at the University of Westminster in a fun way."
Find out more about the Navigating Westminster game.