University Records and Archives collects, preserves, and provides access to records created by staff and students of the University and its predecessors.
We act as the central point of information about the University's history and welcome enquiries from students, staff and the wider community. We oversee the University's current recordkeeping and assist departments in managing their records efficiently and in accordance with legislative requirements and good practice.
On these pages, you can find out about the records we hold, link to our online catalogue, learn about our history and how to research on significant themes, how to access the collections as an external researcher and our digitised material and exhibitions. Information about the University's modern records and our records management services, can be found on the Records Management page.
Key facts about the University's history can be found on the Our Heritage pages, including a timeline, and extracts from our Oral History programme. In June 2015 we published 'The Magic Screen: A History of Regent Street Cinema' to celebrate the cinema's re-opening. Details on how to purchase this, and our previous history books, can be found on the Publications page.
Staff and students of the University wishing to use to the archive should see our dedicated pages at services to staff and students, where you will also find information about the additional support we can provide to courses, events and other University activities.
We are actively building the collections, and are always interested in records transfers from staff or gifts and deposits from outside the University, including oral history participations from alumni and former staff. Please contact us if you have material which you think might be of interest.
For information regarding legal and regulatory obligations for recordkeeping (ie Freedom of Information or Data Protection) please see our Information Compliance pages. For information on how to request a record of your academic history, visit out Transcripts and Lost Certificates page.
Online Catalogue
The University Archive has recently launched its online catalogue.
The catalogue contains overview descriptions of each collection, with some described in more detail. The catalogue is constantly being added to so please check back, or get in touch with us if you are looking for something specific.
The catalogue website has further guidance on search techniques, archival terminology and our cataloguing conventions.
If you find an item or collection that you are interested in seeing, members of the public need to contact us to make an appointment, staff and students please see instructions for finding and accessing the archive.
About the team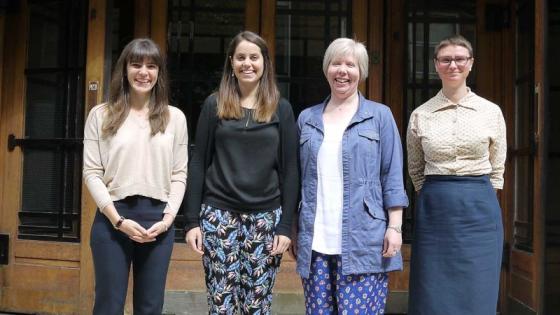 From l-r: Rebecca Short, Claire Brunnen, Elaine Penn, Anna McNally.
Claire Brunnen – Archivist
Claire has been a qualified archivist since 2010 and has previously worked in the performing arts and cultural sectors before joining the University in 2011. She is currently leading the University's Oral History Project and recently curated an online exhibition to commemorate World War One. Claire is the main contact in University Records and Archives for help with conferment requests and for off-site storage box requests.
Anna McNally – Senior Archivist
After studying Philosophy at BA, Anna qualified as an archivist in 2004, and has worked at the University since 2009. She has published widely on the use of archives including chapters in All This Stuff: Archiving The Artist ed. Vaknin, Stuckey, Lane (Libri, 2013) and Educational Programmes: Innovative Practices for Archives and Special Collections ed. Theimer (Rowan & Littlefield, 2015), as well as a paper 'Discovering Knitting at the Regent Street Polytechnic' in Textile: The Journal of Cloth and Culture 12:1 (pp. 58-71). Her role is focussed on promoting the collections and she is the point of contact for staff and student use of archives. Since 2015, Anna has also been responsible for the University's Chinese Poster Collection.
Elaine Penn – Head of University Records and Archives 
Elaine has been a qualified archivist and records manager for over 17 years, previously working mainly in the Banking sector before joining the University in 2005. In November 2014 she was awarded a PhD in Information Studies (Archival Studies) from UCL. Elaine is a registered member of the Archives and Records Association, member of AIM25 and the British Records Association. Her interests include the application of archival theory to practice, particularly in the area of appraisal and in 2012 she attended the ARCHIDIS two-week summer school exploring European approaches to archival appraisal.
Rebecca Short – Senior Records Manager
Rebecca qualified as an archivist and records manager in 2012, and has previously worked in the charity and heritage sector. Rebecca joined the University as Assistant Records Manager in 2013, and is responsible for the management of the University's modern records. She focusses on the retention of records, managing the off-site storage facility, advising on the implementation of new record keeping systems, longer-term preservation of digital records and records management training.
Danielle Sprecher - Menswear Curator
Danielle is originally from New Zealand and has worked as a costume curator at Leeds Museums and Galleries and at the V&A. In 2016 she gained a PhD at the University of Leeds researching the contribution of Leeds's tailoring industry to the production and consumption of high street fashion. Danielle manages the Westminster Menswear Archive based on the Harrow campus. For more information see the Westminster Menswear Archive website. 
 
Contact us
General enquiries and any feedback on our services should be directed to:
University Records and Archives
University of Westminster
4–12 Little Titchfield Street
London W1W 7BY
T: +44 (0)203 506 9602
E: [email protected]