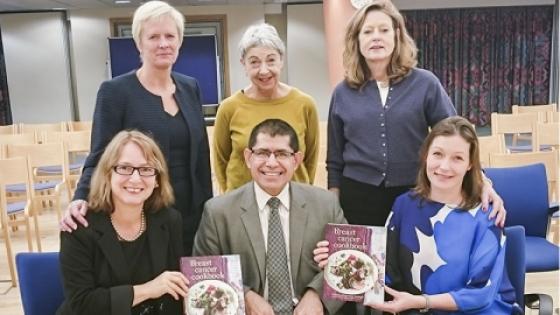 Dr Miriam Dwek PhD, Leader of the University of Westminster's Breast Cancer Research Unit, and Dr Claire E Robertson Registered Nutritionist (AfN) have co-authored 'The Breast Cancer Cookbook' with renowned breast cancer surgeon Professor Mohammed Keshtgar.
The book features more than 100 recipes aimed at helping people recovering from breast cancer, as well as those concerned about developing the disease, it looks to dispel the myths surrounding diet and cancer with recipes and dietary advice based on the latest medical and scientific research.
The book uses the most recent scientific knowledge (see below) to help those with breast cancer to make appropriate, enjoyable, healthy dietary choices. The recipes and information reflect latest scientific understanding of the interplay between diet and lifestyle and breast cancer outcomes and serve to de-bunk some of the myths surrounding what can and cannot be eaten by patients who have had a breast cancer diagnosis.
Countering traditional 'foods/nutrients to avoid' guidance, the recipes focus on enjoying the scientifically-proven benefits of foods and nutrients. The book takes its perspective from experiences shared by patients. Drawing from sound scientific evidence, the simple-to-prepare recipes aim to tackle key-issues faced during treatment by breast cancer patients, in recipes which will be enjoyed by everyone – helping put enjoyment back into eating experiences.
The recipes from the cookbook have been well received by patients, and have made their way into the Royal Free London hospital restaurants. To mark Breast Cancer Awareness Month in October 2015, chefs at Barnet Hospital, Chase Farm Hospital and the Royal Free Hospital have offered dishes taken straight from the cookbook.
Bibliography
Alcohol consumption
Wendy Y. Chen, Bernard Rosner, Susan E. Hankinson, Graham A. Colditz and Walter C. Willett. Moderate alcohol consumption during adult life, drinking patterns, and breast cancer risk. Journal of the American Medical Association (2011) volume 306, pages 1920-1921.
Paige A. Green McDonald, Rosemary Williams, Fitzroy Dawkins and Lucile L. Adams-Campbell. Breast cancer survival in African American women: Is alcohol consumption a prognostic indicator? Cancer Causes & Control (2002) volume 13, pages 543-549.
Dairy
Jennifer Lin, JoAnn E. Manson, I-Min Lee, Nancy R. Cook, Julie E. Buring and Shumin M. Zhang. Intakes of Calcium and Vitamin D and Breast Cancer Risk in Women. Archives of Internal Medicine (2007) volume 167(10), pages 1050-1059.
Fat
Jeannette M. Beasley, Polly A. Newcomb, Amy Trentham-Dietz, John M. Hampton, Andrew J. Bersch, Michael N. Passarelli, Crystal N. Holick, Linda Titus-Ernstoff, Kathleen M. Egan, Michelle D. Holmes, and Walter C. Willett. Post-diagnosis dietary factors and survival after invasive breast cancer. Breast Cancer Research and Treatment. (2011) volume 128(1), pages 229-236.
Vitamins
Jun Wang, Heather Eliassen, Donna Spiegelman, Walter C. Willett, and Susan E. Hankinson. Plasma free 25-hydroxyvitamin D, vitamin D binding protein, and risk of breast cancer in the Nurses' Health Study II. Cancer Causes Control (2014) volume 25(7), pages 819–827.
Tero Hirvonen, Louise I. Mennen, Angelika de Bree, Katia Castetbon, Pilar Galan, Sandrine Bertrais, Nathalie Arnault and Serge Hercberg. Consumption of Antioxidant-Rich Beverages and Risk for Breast Cancer in French Women. Annals of Epidemiology (2006) volume 16, pages 503-508.
Soy
Iqra Bilal, Avidyuti Chowdhury, Juliet Davidson, and Saffron Whitehead. Phytoestrogens and prevention of breast cancer: The contentious debate. World Journal of Clinical Oncology (2014) volume 5(4), pages 705–712.
Ruth Swann, Katherine A. Perkins, Louiza S. Velentzis, Cristian Ciria, Susan J. Dutton, Angela A. Mulligan, Jayne V. Woodside, Marie M. Cantwell, Anthony J. Leathem, Claire E. Robertson, Miriam V. Dwek. The DietCompLyf study: A prospective cohort study of breast cancer survival and phytoestrogen consumption. Maturitas (2013) volume 75(3), pages 232–240.
Bette J. Caan, Loki Natarajan, Barbara Parker, Ellen B. Gold, Cynthia Thomson, Vicky Newman, Cheryl L. Rock, Minya Pu, Wael Al-Delaimy, and John P. Pierce. Soy food consumption and breast cancer prognosis. Cancer Epidemiology Biomarkers and Prevention (2011) volume 20(5), pages 854-858.
Body mass index
Chan DS, Vieira AR, Aune D, Bandera EV, Greenwood DC, McTiernan A, Navarro Rosenblatt D, Thune I, Vieira R, Norat T. Body mass index and survival in women with breast cancer-systematic literature review and meta-analysis of 82 follow-up studies. Annals of Oncology (2014) volume(10), pages 1901-14.
Luigino Dal Maso, Antonella Zucchetti, Renato Talamini, Diego Serraino, Carmen F. Stocco, Marina Vercelli, Fabio Falcini, Silvia Franceschi for Prospective Analysis of Case-control studies on Environmental factors and health (PACE) study group. Effect of obesity and other lifestyle factors on mortality in women with breast cancer. International Journal of Cancer (2008) volume 123(9), pages 2188-94.
Useful links