A group of students from the University of Westminster have won the grand final of the IBM University Business Challenge.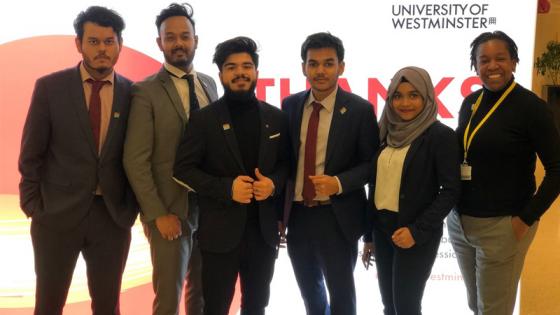 The team of five Accounting BSc Honours students from Westminster Business School consisted of Divya (John) Murti, Satya Shekhar, Aklak Uddin, Fathimath (Zuru) Zareer and Zahy Zareer. The students were mentored by Principal Lecturer from the School of Organisations, Economy and Society Karen Kufuor. The team saw off competition from over 250 University teams across the country over a six-month period to be crowned this year's proud champions.
The Universities Business Challenge Worldwide is the world's longest running simulation-based online competition which was established in 1998. The competition involves three challenging rounds, competing with over 250 teams in the nationwide undergraduate business competition, which is trusted and supported by leading universities and graduate employers. The competition develops all the skills necessary to start and develop a new business, including creativity, presentation and pitching skills, business strategy, investment and marketing decisions.
Talking about the competition, team mentor and Principal Lecturer Karen Kufuor said: "I thoroughly enjoyed mentoring the team. We had a few face-to-face meetings ahead of the semi-finals, but I really got to know the team during the semi-finals weekend in Edinburgh. That's when it hit me how special these students actually are, each bringing a unique quality to the team. I especially loved the way they interacted with one another. Their genuine friendship and respect for each other's views kept them in great stead throughout the competition, and I think that's what makes them such a unique and successful team. 
"This was the third Westminster team to make it to the finals and three of the team members had made it to the semi-finals in 2018. This year, they came back stronger and that amazing drive, determination and their comradeship saw them through to a win. Their win will inspire future Westminster students showing what perseverance and determination can achieve."
 
Team Leader Satya Shekhar added: "Our [team] chemistry showed its true colours in the finals. We won the competition and we were on cloud 9 that evening. What started as our aspiration, soon became our obsession and now our victory will keep motivating the future batches [of students] at Westminster."
Learn more about Business and Management courses offered at the University of Westminster.