Now in its third year, the Westminster Law School Degree Show 'Our Graduate Journey' encouraged Law students to understand law differently through a creative medium.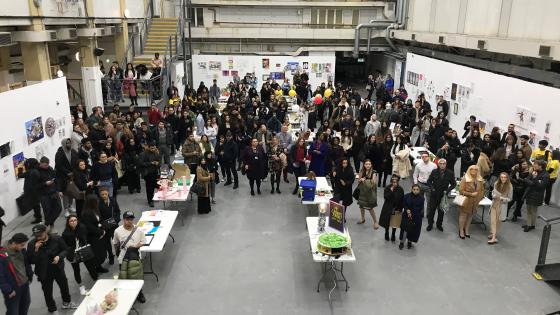 Students created a range of creative pieces for their degree show to represent their personal graduate journeys at Westminster. Uniquely Westminster, Westminster Law School is the only Law School that has a degree show at the end of the final year.
The event pushes the boundaries of the conventional sense of Law, visualising the practice through matter and senses despite the subject's textual context. This year, the array of artefacts submitted by the students comprised sculptures, paintings, architectural models, installations, scrapbooks and even baked cakes.
Students looked back on their student life and created something that represented their personal student journey, including the subject, the things they have learned and the people they have met throughout their time at Westminster.
Talking about the show, Professor of Law & Theory and co-ordinator of degree show Professor Andreas Philippopoulos-Mihalopoulos said: "The Westminster Law School Degree show is an opportunity for all final year students to showcase their skills, talents and creativity.
"It is a fantastic show of emotional engagement and deep reflection on what law is, what the course offered to the students and how they coped, and what they imagine the future to be."
Find out more about Law courses offered at the University of Westminster.