The University successfully hosted a talk with fanSHEN, a theatre company, where they explored what the use of digital technology makes possible in the realm of interactive performance.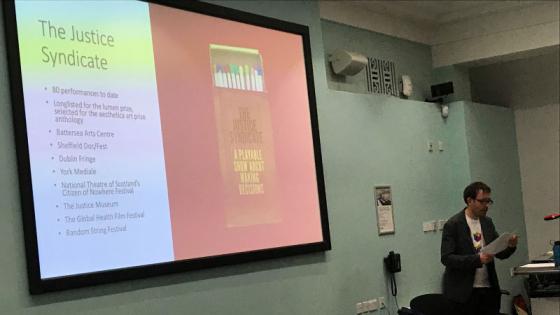 The talk examined the question of what new technology can do to invite audience members to participate and interact that was not possible before, through a series of pieces created by fanSHEN called 'Invisible Treasure', 'Disaster Party', 'The Justice Syndicate' and 'If I Were You'. Each of these pieces used digital technology in different ways to invite the participation of the audience members. 
In the final part of the talk, the 126 registered attendees experienced a demonstration of fanSHEN's new interactive piece 'Smoking Gun'. Unlike fanSHEN's previous work, Smoking Gun does not involve a co-located audience and so asks new questions about how to invite interaction.
fanSHEN is led by director Dan Barnard and dramaturg-producer Rachael Briscoe, who started working with computational artist Joe McAlister three years ago.  Together, they create transformative experiences which combine powerful narratives with the dynamic potential of data.
The talk was organised as part of disLAB Presents, a series of free masterclasses organised by Dr Sandra Gaudenzi, Course Co-Leader of the Digital and Interactive Storytelling LAB (disLAB) MA course. disLAB challenges the use of digital media to do exciting storytelling. It is about being creative and becoming the storytellers of the future through the creation of digital journalism, interactive documentary, apps for social change, VR, educational video games and digital communication. The aim of disLAB is to invite students and media makers to join the conversation with practitioners, so that they can together act as a creative community. 
Dr Gaudenzi said about the event: "Mixing immersive theatre techniques of storytelling and synchronous iPad devices, fanSHEN experiments with new ways of using digital technology to immerse audiences in factual stories. A premiere live demonstration of their latest mobile story "Smoking Gun" was also performed to the delight of the public. 
"Through the disLAB Presents masterclasses, students have the opportunity to be in contact with cutting edge digital producers. Students also acquire professional experience by co-producing the events. They are in charge of designing the promotional posters, leading a social media campaign, filming and editing the talks. The disLAB presents talks are a bridge between student and professional life: students get inspired; they can ask questions from inspirational practitioners; they can exchange contacts and even share a drink with them after the talk."
The talk will soon be available to watch on disLAB's YouTube channel.
Learn more about the Digital and Interactive Storytelling LAB MA.