The University of Westminster hosted several events to recognise World Mental Health Day on 10 October.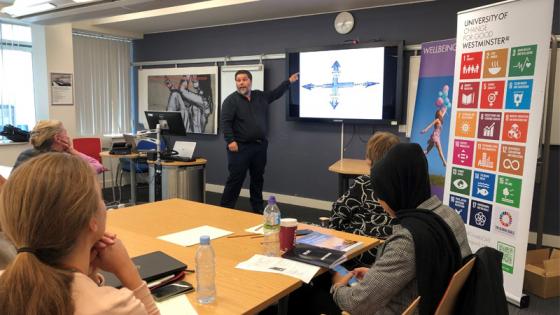 The first activity involved the Mental Health Graffiti Walls, where large papers were put up around our Marylebone, Cavendish and Harrow sites for students to add their own views on why mental health and wellbeing are important and how the stigma around these issues can be removed.
The University also organised a practical introduction to meditation and mindfulness, led by David Morris, the Assistant Interfaith Advisor. Morris gave students and staff a guided introduction to a meditation technique, which was designed to help people learn to rest their awareness in the present moment, bringing them into closer communication with the state of their emotional, spiritual, physical and mental wellbeing. It may also provide insights into what supports mental health. This session served as a good introduction to the eight-week programme of free weekly sessions that began across all campuses on Monday 14 October.
The third and fourth sessions were a unique opportunity to listen to two of the University's experts in the areas of wellbeing, compassion and resilience. Dr Kathryn Waddington, Reader in Social Sciences, focused on the theme of self-compassion, drawing on the work of Kristen Neff. She was joined by Nishat Begum, a third year Psychology BSc Honours student, who has been integrating Kristen Neff's self-compassion resources in a project funded by the Quintin Hogg Trust.
Dr Waddington said about her session: "My workshop addressed the important topic of self-compassion and was co-presented with third year Psychology student Nishat Begum, who is part of a University-funded research project which helps students develop the self-compassion skills of being kind to ourselves and mindfulness. Nishat spoke enthusiastically about how, despite initial scepticism, she has found this really useful for managing the many demands of being a student."
Justin Haroun, Director of the Centre for Resilience, led the fourth session on rapid resilience, providing an overview of techniques that have been successfully taught in a range of organisations, including Microsoft and the NHS, to help colleagues develop resilience.
In February this year, the University signed the Time to Change Pledge as part of Wellbeing Day. The pledge is a commitment to changing the way employers think and act about mental health in the workplace. It supports organisations to put in place best-practice interventions and policy to help staff work in ways that promote positive mental wellbeing.
Learn more the University's Support Services on our website.