On Tuesday 11 February, Deputy Vice-Chancellor for Global Engagement and Employability Professor Alex Hughes welcomed 35 University of Westminster mentors for the second Mentor Networking Event, hosted by Tigerspike at their London office.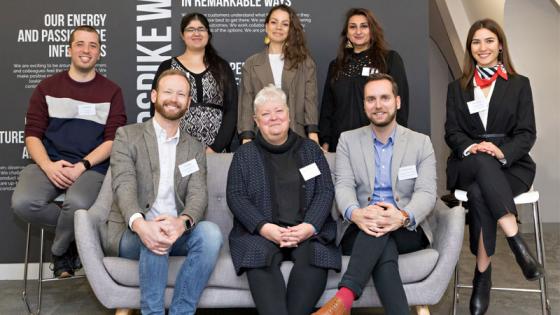 Welcoming new, returning and prospective mentors, the event aimed to give supporters of the Career Mentoring Scheme a chance to share their experiences as mentors and foster opportunities for continued professional growth. 
The evening began with global digital services company Tigerspike speaking about their strong partnership with the University and the importance of nurturing future talent through mentoring. 
Alongside mentors, Tigerspike also provide an annual £5,000 prize fund which recognises women who achieve a distinction in their final year on the Software Engineering BEng or Computer Science BSc courses, to further boost their chances of succeeding in the male-dominated tech industry. Focused on strategy, experience design, software development and system integration, Tigerspike is an award-winning company driven to improve people's lives through technology. 
Guests had the opportunity to meet with Professor Alexandra Hughes. Talking about the evening, Professor Hughes said: "The mentor networking event hosted by Tigerspike was genuinely inspiring - hearing mentors talk about what mentoring brings to them was really powerful. This is a truly excellent programme and we are committed to taking it from strength to strength." 
Since 2010, the Career Mentoring Scheme has connected more than 2,000 students and recent graduates with members of the experienced mentoring community from across the world. 
The mentoring team are always on the look-out for talented professionals to join their ever-expanding community of Westminster Mentors. Applications to become a mentor are open throughout the year and the next cycle of the scheme will run from April – October 2020. All alumni and supporters of the University are encouraged to consider joining and promoting the scheme within their own professional networks. 
Philip Esterhάzy, a loyal international mentor and Westminster alumnus, said about the scheme: "I believe the team does an outstanding job in matching mentors. For four years, they have sent the brightest minds as mentees who have secured employment at highly regarded companies and institutions. 
"To name a few, my mentees have gone on to work for Europol, The Dutch Embassy, Dutch Foreign Minister, and at other European institutions. Without Westminster's global commitment we would never have met, and I am glad to see the University pursuing its international vocation."
Find out more about how you can get involved.