The Graduate School Annual Lecture was hosted by alumna and neuroscientist Professor Sophie Scott, who presented her lecture entitled 'The Science of Laughter' at Fyvie Hall on Regent campus.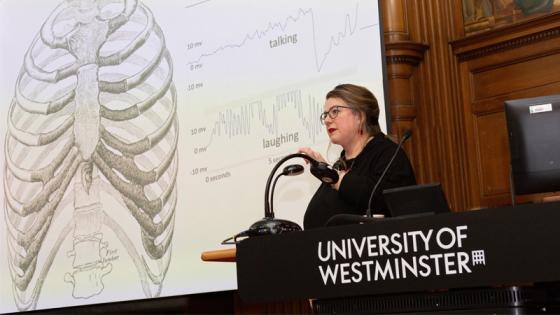 In the lecture, Professor Scott discussed the ways that laughter is used by mammals as a social signal. She explored how humans use laughter as a form of communication and how this complex signal is processed by the human brain.
While understanding the complex physiology and social function of laughter is a serious business, the work carried out by Professor Scott and her team suggest we laugh much more than we think – an average of seven times each 10 minutes of conversation.
The lecture highlighted the vital work that laughter does in connecting us and in helping us navigate the multiple layers of meaning in human interaction. It was followed by a drinks reception in the foyer of Regent campus. 
Professor Scott's scientific career began over 30 years ago during her BSc in Life Sciences at the then Polytechnic of Central London, where her first lecture took place in Fyvie Hall. She is now a Professor of Neuroscience at UCL and is a Wellcome Trust Senior Fellow.
Talking about the event, Professor Leigh Wilson, Director of the Graduate School, said: "Sophie's return to Fyvie Hall this week was warmly appreciated by her audience – who were given new insights into their own behaviour and some welcome laughs".