University of Westminster film students have won six awards at the 32nd Kodak/Nahemi Student Commercial competition.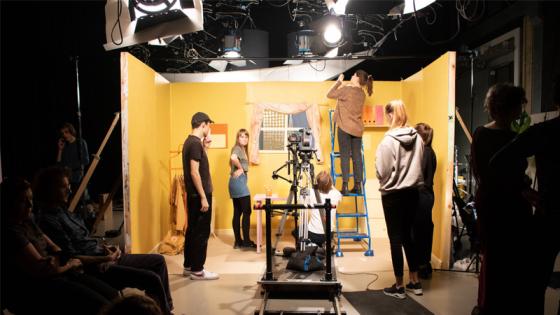 The competition asked film students from all over the country to create 30 second commercials for four brandss : Harvey Nichols stores, Charles Tyrwhitt clothing, Pops alcoholic ice lollies and the Mindshine mental health app. The live briefs were supplied by the advertising agencies TBWA, Libertine and Mother London. 18 universities and film schools entered, shooting more than 50 commercials on 16mm film stock provided by Kodak.
The Awards ceremony was livestreamed on Youtube, hosted by award-winning commercials director Dougal Wilson, whose credits include several memorable John Lewis commercials, the Lurpack 'Adventure Awaits' series and the Rio Paralympics film for Channel 4. Over 300 watched live, and 1500  more since the show, as Dougal presented awards for each brief, for outstanding film craft, and to the overall winners.
'Braincare', made for Mindshine by a team of Westminster film students led by director Kornelia Werp and producer Ella Eddy, won 1st in brief, 2nd overall and also Best  Production Design.
Another Westminster entry, 'Your Charles Tyrwhitt Shirt' was awarded 1st in brief and 3rd overall. Film student Sarah-Jane Dawson said: "I'm so happy about the awards! I produced the Charles Tyrwhitt commercial and I am completely astounded with how well all our commercials did. I am so proud to have been a student at this university."
The final Westminster entry also picked up an award, 3rd in the Harvey Nicols brief for a commercial entitled 'Treat Yourself'. Director Pablo Cadenas commented: "The professional brief and treatment process initiated by the Nahemi/Kodak Awards gave us a valuable insight into industry practices, and the frequent production meetings and emphasis on test shoots ensured we were always pushing the limits of what our advert could be."
Course Leader Tom Hooper commented: "The awards were well deserved, and the students should feel extremely proud of themselves." Commercials Tutor Behnam Taheri added: "I'm incredibly proud of our students' successes in the Nahemi/Kodak Awards, and I've been hugely inspired by their work ethic and passion. They put their all into every piece of work, not just because it's on the curriculum or will influence their grades, but because of their love for making films."
Peter Hort, Principal Lecturer in Film at the University of Westminster and the organiser of the Nahemi/Kodak competition, said: "Nahemi represents all the main Moving Image courses in the UK, and I think that this year's livestreamed student commercial awards really answered a need. With graduation shows everywhere cancelled or postponed because of COVID-19, this was a chance for students from film courses all over the country to come together to mark the end of their degrees by watching and celebrating each other's work, with a far bigger audience than the Regent Street Cinema could hold."
Find out more about studying Film at the University of Westminster. 
Click here to watch the live stream of the awards show.