Fashion Design BA students from the University of Westminster are in the process of sewing over 120 scrubs sets in addition to non-surgical masks and scrub bags for their local NHS hospitals and other healthcare facilities to help the fight against coronavirus. Scrubs are the uniforms worn by healthcare staff under gowns.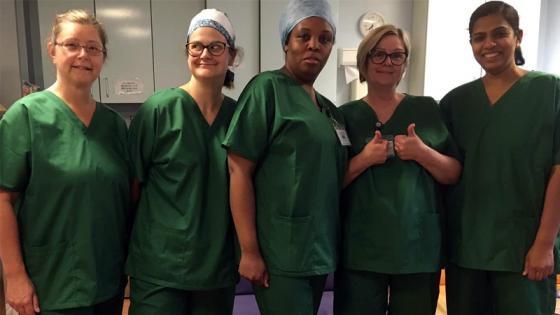 The 20 Fashion students involved are all first, second and placement year students, and they are coordinated by Christine Ha, placement year Fashion Design student from the US. There have been other students who were also sewing scrubs via individual fundraising efforts and donated materials.
Christine Ha explained what inspired her to set up the project group: "I worked in a hospital prior to my BA Fashion Design degree and most of my family are medics and critical care nurses, so this pandemic felt uncomfortably close to home. This anxiety combined with the isolation I felt during the early days of quarantine pushed me to find ways to coordinate the incredible making skills that Westminster students are known for."
Each of the students has taken the initiative to identify and work with a local healthcare facility before they started the process, to better understand the site-specific needs for pattern, size, and colour. Though they have mostly provided scrubs for hospitals, the group has been also mindful that the need for scrubs could come from other settings such as GP surgeries, Care in the Community, or individual requests from medical staff.
The majority of those involved live in London with supplies being distributed to homes as far as Herefordshire and West Sussex. When possible, Christina has grouped students that lived within walking or cycling distance to one another to facilitate coordination of different sizes and delivery for the same local healthcare facility. Scrubs have been either picked up, delivered by walking or cycling, or posted. The students were encouraged to identify their nearest healthcare facilities to minimise travel distance during the lockdown period.
The scrubs are made from a whopping 580 metres of polycotton with the University covering the costs to facilitate the project.
The University funding covers 100 per cent of the material cost including fabric, thread and shipping. Christine said: "We are thrilled and so grateful that everyone at the University has been supportive of our efforts. It would not have been possible to mobilise quickly without the financial support of the University."
The students have been grateful to be able to participate in the project. Christine said: "Based on our exit survey for students that have finished the project, the general consensus has been that everyone was incredibly pleased to have been able to contribute to our healthcare workers during this challenging time. It gave students the confidence to help again for future projects and inspired others to find ways to continue contributing as much as possible, either by joining other local groups or raising individual funds.
Christine concluded: "This being a UK-based effort, I would absolutely encourage any UK fashion student or member of the UK public for that matter with access and the skills to sew safely at home to get involved if a need for scrubs is identified in their local community."
To learn about the University's COVID-19 appeal, which is supporting vulnerable students impacted by the crisis, please click here.