The University has awarded the top undergraduate students with the Excellence Awards for 2020.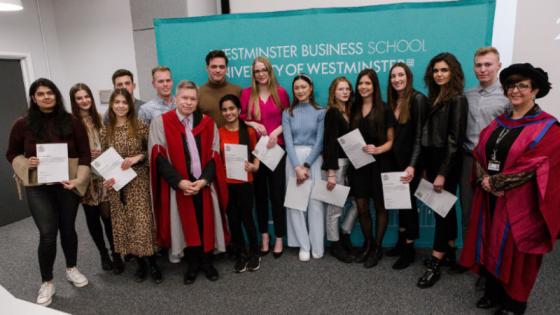 Every year the Scholarships Office funds 300 Excellence Awards across the University to reward and encourage undergraduate students to progress their studies and recognise their hard work. The awards go to the top Level 4 and Level 5 students in each course area, as determined by exam boards over the summer.
The awards for the College of Design, Creative and Digital Industries were given out by Jim McClellan, Assistant Head of the School of Design, Creative and Digital Industries. Over 200 students, families and friends joined McClellan and Professor Gregory Sporton, Head of Westminster School of Arts, along with University academics and staff, for a joyous occasion, celebrating the students' outstanding academic achievements. 
Awards were given out to 106 students in total across the College's full range of courses in the School of Architecture and Cities, School of Computer Science and Engineering, Westminster School of Arts, and Westminster School of Media and Communication. The audience were treated to a slideshow of student work as students collected their award. This was followed by a drinks reception, celebrating their success.
Michael Beckett, an Illustration and Visual Communication BA Honours student, said about the award: "Receiving the student award made the effort and work I'd put in worth it - knowing the university actually cares and showcases the work of deserving students especially when creative fields are so difficult to break into and feel truly recognised in."
Toby Vernon, Fashion Design BA Honours student, said: "It was very humbling to have been recognised by the University for all the work I have put into this last year. The financial support also could not have come at a better time, helping me fulfil my internship in Paris."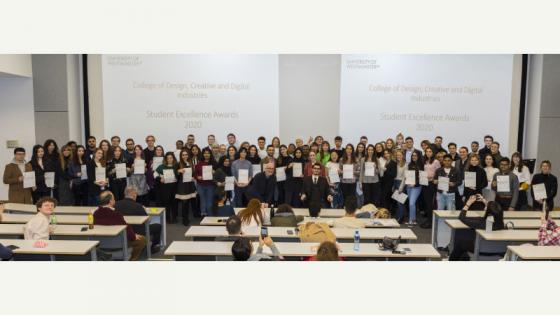 The awards for the Westminster Business School were given out by Professor Malcolm Kirkup, Pro-Vice Chancellor of the University and Head of the Business School. 
Zhaklin Arolska, a Finance BSc Honours student, said: "Thank you for the amazing experience at the Excellence Awards Ceremony. It was a great honour and pleasure for me and my guests to be part of it. Westminster is a truly supportive University in stimulating personal and academic growth – an inspirational place where dreams come true."
The awards for the College of Liberal Arts and Sciences were presented by Professor Andrew Linn, Pro Vice-Chancellor and Head of the College of Liberal Arts and Sciences. The event was attended by over 200 people with students, friends, family and colleagues all coming together to recognise the students' achievements. A total of 113 students were awarded, all in the Law, Life Sciences, Social Sciences and Humanities schools. 
Catalina Pena Ronzon, English Literature BA Honours said about receiving the award: "Thank you so much – I am so grateful and honoured."
Learn more about academic prizes at the University of Westminster.