On Friday 24 April, winners of the University of Westminster Students' Union (UWSU) Awards 2020 were announced.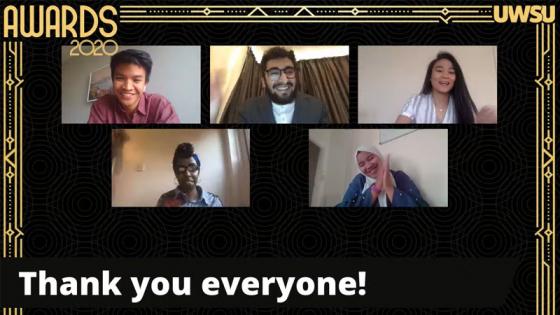 The Awards are an annual event held to recognise the exceptional work of student groups, volunteers and staff and are an opportunity to showcase all of the work they do. This year the event was hosted online via the UWSU's social media channels.
In the Societies and Student Media category, the South Asian Social Society won Best New Society, the Islamic Society won Most Improved Society of the Year and Student Group of the Year, and Musical Theatre Society's production of In The Heights won the Society Event of the Year. Stephen Bailey, a final year Radio and Digital Production BA Honours student, won Outstanding Contribution to Student Media, and Derrian Douglas, a final year Journalism BA Honours student, won Student Journalist of the Year. Dain Son, Head of the Environmental Society, won Society President of the Year. 
The Islamic Society said about their wins: "We are extremely pleased to have won two awards. Our efforts and struggles, ups and downs, have truly paid off, and it feels great to be recognised by the University on such a scale for our work. We will keep pushing forward and keep working towards our big vision of serving our community on campus. Our Prophet (peace be upon him) said, "Actions are by intentions", so we intend to spread goodness and push ourselves even further the next academic year!"
Son said about her win: "I was so happy to hear my name when it was announced as there were other great students nominated for this award. I have never been in charge of a big team like this (we have eight people in the committee), so it was definitely a big learning experience for me throughout this academic year but an experience that brought me great joy nonetheless. It was a wonderful way to end my journey as an undergraduate student at Westminster, especially since I had just submitted my thesis the day before! I will certainly miss running the Society and working with such amazing students and staff but I am happy to be handing over the Society to an incredible group of students who will with no doubt go on to achieve even greater things!"
In the Sports Awards category, the Most Improved Team award went to the Rowing Club, Sports Committee of the Year to the Dance Team, the Biggest Sporting Achievement was won by Women's Basketball, and the Team of the Year was Men's Basketball 1st Team. Winner of Player of the Year was Adamos Zavallis and Captain of the Year went to Emily Yarwood from the University's Cheerleading Team. 
Yarwood said about the award: "I genuinely didn't think I was going to win! This just made me ever the more grateful. We had one of the biggest membership commissions and for once we were set to take three teams to competition but unfortunately that will have to wait until the new year. I ran for 100 days to raise money for my teammates, covering around 350 miles and raising £700 for my team to use in the new season. I'm so grateful to everyone who stuck by me and let me cry on them when it all got stressful, but I'll definitely miss everyone, and I can't wait to see where the next Captain takes them."
In the final category for the UWSU Awards, Jordan Blanchard won an award for Contribution to Student Community, Tori Burnett won the Student Employee of the Year award, and Khadeeja Idrissi Yahyaoui was hailed UWSU Personality of the Year. Outstanding Contribution to the FANS Scheme was won by Mariam Sultani. 
The Quintin Hogg Award celebrates an athlete who is part of the community throughout each year of their university life. This award is not only based on athletic abilities, but also personality and spirit. This year it was awarded to Tyree Blake-Bailey and Omotola Ogunpitan.
Ibrahim Alzaid, President of the Students' Union, said: "The last couple of months has been a challenging time for our Westminster community due to the outbreak of COVID-19. Many events and activities have been postponed; some even cancelled because of it.
"However, these circumstances meant we had to think 'outside of the box' to ensure we're able to deliver programmes for students to participate and engage with the Union and the University. We understand the need to recognise our students for their brilliant work every year, and so the idea to host a virtual awards ceremony was born. This initiative made us one of the first national Unions to hold a digital Awards Ceremony — with the collaborative effort from the Lifestyle, Communications and Sabbatical Officers' team, the event was highly praised by students and externals alike. But more importantly, we were able to provide a platform for our students to feel recognised and valued."