From 29 to 30 November, Deep Field Lab, part of the Centre for Research and Education in Arts and Media (CREAM) at the University, hosted a two-day event with Arts Catalyst, focusing on issues of art and ecology.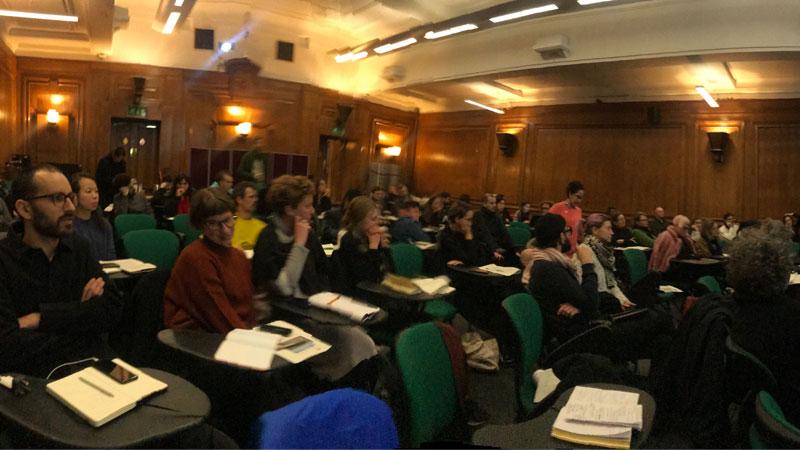 The event, hosted at the University's Little Titchfield Street site, brought together artists, academics, activists and human rights experts to collectively explore the politics of extraction across the globe and the role that its operations play on environmental, ecopolitical and societal levels.
The Extractable Matters Assembly was coordinated with Professor Neal White, co-director of the Centre for Research and Education in Art and Media (CREAM). The Assembly was organised in partnership with Arts Catalyst, non-profit contemporary arts organisation that commissions and produces transdisciplinary art and research. The Assembly is part of Resistance Labs, a series of discursive events, workshops and broadcasts that bring to the forefront existing forms of solidarity between various anti-mining movements in the context of Ignacio Acosta's exhibition 'Tales from the Crust' at Arts Catalyst in Kings Cross.
The attendees collectively explored the molecular effects of mining and its extractive practices on a planetary scale, including, for example, the complex interdependencies between the demand for forms of renewable energy that require the extraction of scarce resources and the disruptions of ecosystems and communities. One of the aims of the workshop is to reflect on how to build alliances and solidarity between artists, activists and those affected by mining industries.  
The exhibition featured presentations and papers from Ignacio Acosta, Lise Autogena, Bobby Banerjee, Suzanne Dhaliwal, FRAUD, Gaia Foundation, Que Kenny, London Mining Network, Margarida Mendes, Ainhoa Montoya, Rachel O'Reilly, Pluriversal Radio, Louise Purbrick, Xavier Ribas, Sim Chi Yin, Elena Solis and Jol Thomson and Neal White.
The conference and tour of local sites welcomed an array of international speakers and national organisations and the event was attended by double the anticipated audience numbers, with resounding affirmative feedback and positive responses from participants across the board who were delighted to be able to take part in this event hosted in Central London.
Professor Neal White said about the event: "Climate change is a critical issue across science and culture and is a key theme within our research in the visual arts. As research leaders in Art Media and Design, CREAM are specifically interested in how artists and creative thinkers work with other disciplines to address these challenges. This assembly allows us to explore specific case studies from Latin America to the Arctic in order to evaluate successful interdisciplinary projects.
"This event with Arts Catalyst, an interdisciplinary art and research agency, continues a series of international events that links our research to broader issues that will both impact and potentially shape society in the UK and internationally, whilst reflecting the concerns of our diverse student population within the University."
Learn more about the Centre for Research and Education in Arts and Media.