The University of Westminster's Professor Mohammed Gulrez Zariwala has partnered with elite athletes, Mathieu Flamini and Mesut Ozil, to launch a new range of health supplements for their brand UNITY.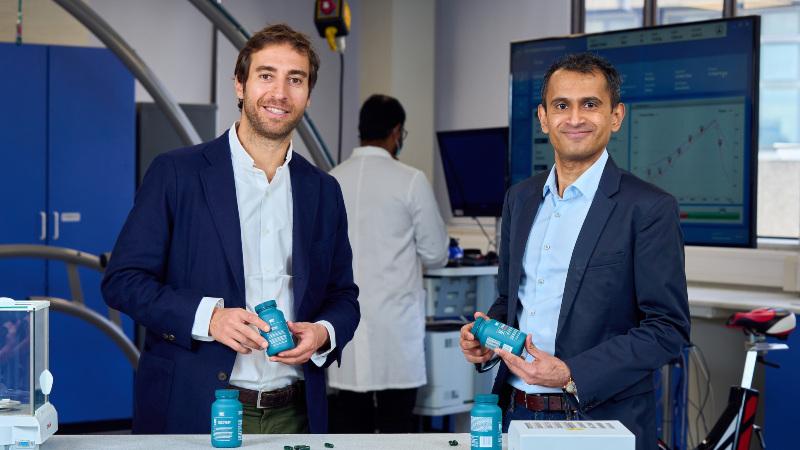 The new U ULTRA supplement range, developed at Westminster's recently opened Centre for Nutraceuticals, consists of four unique full-spectrum power blends, including Energy Sport Pro, to achieve peak performance, Immunity, to always feel your best, Mind, to perform under pressure and Recovery, to recover faster.  All of which complement the four pillars of human performance: training, nutrition, mindset and recovery.
The range has been developed by athletes in collaboration with Professor M Gulrez Zariwala, a leading researcher in nutritional supplementation and Director of the Centre for Nutraceuticals at the School of Life Sciences, University of Westminster.
The Centre for Nutraceuticals is a first-of-its-kind initiative in the area of nutraceuticals, supplements, and functional foods and will act as a catalyst for improving health and wellbeing guided by research and innovation.
This is the Centre's first ever formal collaboration and will build on its aim to be a globally recognised source of scientifically validated knowledge to better inform governments, regulatory bodies, the industry and consumers.
U ULTRA supplements are formulated and manufactured in the UK, they are vegan and gluten-free and the range contains the highest quality, clinically proven, highly bioavailable ingredients. Unlike many supplements on the market, the products contain no added preservatives, fillers or binders.  
Energy Sport Pro is certified with Informed Sport. The Informed Sport programme provides assurance that products have been tested for a wide range of substances prohibited in sport. Products undergo rigorous testing using ISO 17025 accredited methods to provide the highest level of assurance for athletes. For further information about the testing process, please visit the Informed Sport website.
Talking about the supplements, Professor M Gulrez Zariwala, Director, Centre for Nutraceuticals, University of Westminster, said: "We have developed a new supplement range that uses the optimum dosage of the most effective, clinically-proven ingredients in the market globally, which ensures maximum absorption in the body for optimum performance. The supplements target a range of health and wellbeing goals, from a lack of energy to focus and more."
Mathieu Flamini, co-founder of UNITY, added: "Given what we've all faced with the pandemic, it's never been more important for people to look after their health. Having worked with the world's top coaches and performance experts, we understand first-hand how everything from training burnout to stress and poor nutrition can affect your everyday performance.
"After searching high and low for the best supplements and being disappointed by what was on offer, we decided to take matters into our own hands by creating our own range. We collaborated with world-renowned scientists at the University of Westminster to produce the most effective supplements, using the highest quality, clinically-proven, highly bioavailable ingredients and our trademarked UltraTech™ technology and delivery system."
Mesut Ozil, Co-founder of UNITY, said: "We want to help everyone take control of their health. Being healthy starts with access to healthy food. That's why we've teamed up with The Felix Project, to donate two healthy meals to schoolchildren in need, for every supplement sold."
The supplements, which empower everyone to take control of their health, are available to purchase at the UNITY website.