At this year's graduation ceremony at the Royal Festival Hall, the Sociology team presented graduating students with the fifth edition of the annual Westminster Sociology Dissertation Anthology, which showcases some of the outstanding and innovative research produced by final-year Sociology and Sociology-Criminology students at the University of Westminster.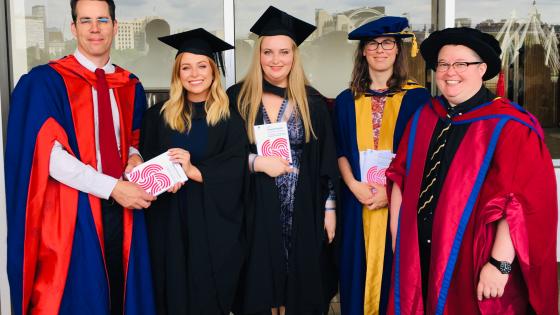 The aim of the anthology is to reward good dissertations, to provide an example of quality work for future dissertation students, and to promote more widely the achievements of students in Sociology at Westminster.
The anthology includes work by Kate Salmon, who has produced an in-depth qualitative study on women's perspectives of stranger harassment in public space, paying particular attention to intergenerational differences. Iqra Bi's research explores how South Asian women who are University graduates navigate their social realms and negotiate the dichotomy of modern and traditional 'good Muslim women' ideals. Sadia Haque asks 'who gets labelled a "terrorist"'? in a discourse analysis of online news articles covering two terrorist attacks. Isabelle Jackson's project explores the ways young heterosexual people in contemporary British society learn about sexual practices and pleasure through sex toys. Chloe Mead has conducted survey research on the drinking cultures of British University students. Finally, Sazkar Kaka Rhsh's project investigates the marital life experiences of Iraqi-Kurdish women in the UK.
While these five projects are diverse, they all have qualities that
 make them distinctive of the kind of work our students produce in Sociology
 at Westminster: they engage creatively with some of the
 urgent issues of our time, they use a finely tuned sociological imagination to
 challenge taken-for-granted assumptions, and they are motivated by a desire 
to understand and challenge social inequalities.
The Sociology team would also particularly like to commend Brooklyn Stevens who collected rich data on the gentrification of Brixton and how it affects everyday lives and communities.
Download the Westminster Sociology Dissertation Anthology
Download your free copy: